Living in New Zealand, you might already know the importance of using a reliable VPN service to ensure your privacy and access geo-restricted content with ease.
With so many options available in the market, finding the perfect fit for your needs can be quite challenging. Worry not!
In this article, we'll explore some of the best VPNs for New Zealand to help make your decision as smooth as possible.
As a VPN user in New Zealand, finding a provider offering fast connection speeds, top-notch security features, and a broad range of server locations is essential.
Compatibility with your preferred devices and an easy-to-use interface are equally important factors to consider.
Throughout this article, we'll address those requirements and provide insightful information on some of the elite VPNs for New Zealand.
So, please sit back, relax, and let's delve into the fascinating world of virtual private networks that can transform your online experience.
Understanding VPNs
You may want to protect your online activities and keep your information private as an internet user.
That's where a VPN, also known as a virtual private network, comes in handy.
In this casual chat, we'll help you understand more about VPNs, how they work, and their benefits.
A VPN allows you to create a secure and private connection to the internet.
It does this by routing your internet traffic through an encrypted tunnel, hiding your data from prying eyes.
Imagine it as a secure passageway that keeps your online activities hidden from anyone who might be snooping, such as hackers, government agencies, or even your internet service provider.
Using a VPN connection, you can enjoy a more private and secure browsing experience.
Since your internet traffic is encrypted, it becomes difficult for outsiders to monitor or access your online activity.
This is especially important when you're connecting to public Wi-Fi networks, as they can be a playground for cybercriminals looking to steal your personal data.
Moreover, VPNs can help you access geo-restricted content.
By connecting to a VPN server in another country, your internet traffic appears to be coming from that location, allowing you to bypass content restrictions and access websites, streaming services, or social media platforms that may be blocked in your region.
Now that you've got a general idea about VPNs and how they can benefit you in your online activities, you may be curious to explore the options available.
Fortunately, there are multiple VPN services that cater to different needs, budgets, and levels of expertise.
Remember to do your research and choose a VPN that aligns with your requirements while keeping your connection secure and private.
Why Do New Zealanders Need a VPN?
As a New Zealander, you might be wondering why you need a VPN.
Well, using one can offer several benefits, such as added online privacy, protection against cyber threats, and access to a wider range of content.
Firstly, a VPN helps maintain your online privacy by concealing your New Zealand IP address.
This makes it more difficult for your Internet Service Provider (ISP) and other third parties to monitor your online activities.
With a VPN, you can browse the web, make online transactions, or engage in discussions without the fear of being tracked.
Another advantage of using a VPN is the enhanced security it provides.
When connected to public Wi-Fi networks, your personal information can be vulnerable to malicious attacks.
A VPN creates an encrypted tunnel for your data, shielding it from potential hackers and ensuring your sensitive information remains safe.
In addition to privacy and security, a VPN can also give you access to local content that might be unavailable due to geo-restrictions.
New Zealanders who travel or live abroad can use a VPN to connect to a server in their home country and access local websites, streaming services, and TV channels.
This way, you won't miss out on any Kiwi content while you are away from home.
So, whether you're concerned about your online privacy, want to beef up your security, or simply stay connected to local content, using a VPN is a smart choice for New Zealanders.
Just remember to consider factors like encryption methods, server locations, and speed when choosing the best VPN for New Zealand.
Best VPN Services for New Zealand
When looking for the best VPN services in New Zealand, there are some excellent options to consider.
These top VPNs offer excellent performance and cover a range of features, from the fastest VPN to great value for your money.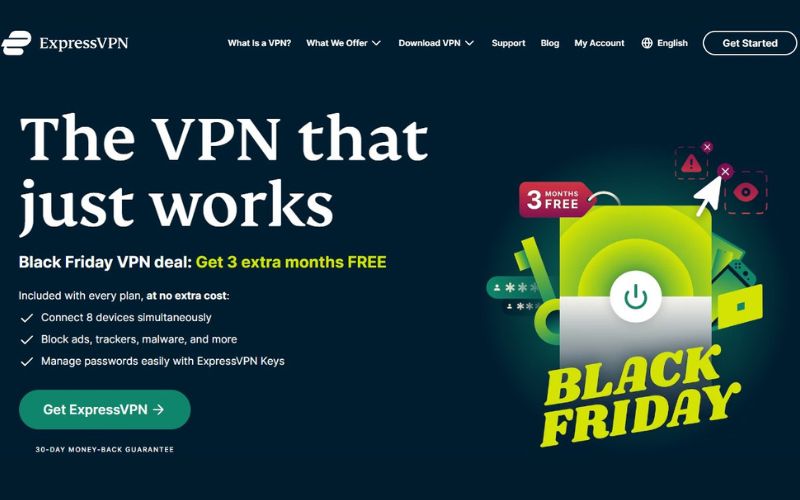 One of the best choices out there for a New Zealand VPN is ExpressVPN, known for its fast servers and strong encryption.
Additionally, it's great for unblocking popular streaming services like Netflix and Amazon Prime Video.
If you want the best option for both speed and security, ExpressVPN might be perfect for you.
Another top VPN service that has made its mark in New Zealand is NordVPN.
It's often considered the best budget VPN, giving you great value without breaking the bank.
With a strict no-logs policy and double VPN servers, this reputable provider ensures your privacy and security stay intact.
For those seeking the best free VPN, ProtonVPN is an excellent choice.
It offers robust security features without charging you a cent, making it ideal for those on a tight budget or simply testing the waters.
Keep in mind, though, free VPNs generally come with limitations, and they might not perform as well as the paid options.
If you're after the best cheap VPN with extensive features, Surfshark is undoubtedly worth a look.
This budget-friendly VPN offers unlimited connections, allowing you to secure all your devices simultaneously.
Top VPNs for Streaming
When looking for a VPN to enhance your streaming experience in New Zealand, it's crucial to find one that offers fast speeds, reliable connections, and compatibility with popular streaming services.
In this section, we'll discuss some top VPNs that cater to these needs while ensuring you can enjoy your favourite shows seamlessly.
ExpressVPN – A top choice for streaming enthusiasts, ExpressVPN is known for its outstanding speeds, making it perfect for accessing and streaming high-quality videos without any buffering.
It's user-friendly and compatible with various devices, including smart TVs.
This VPN also supports popular streaming platforms like BBC iPlayer, Amazon Prime Video, and more, allowing you unrestricted access to your favourite content.
NordVPN – Another popular option, NordVPN is praised for its excellent performance and strong security features.
NordVPN has an extensive network of servers, which ensures you can access streaming services like BBC iPlayer and Amazon Prime Video without any hassle.
They also offer dedicated apps for different devices, making it an ideal choice for streaming on smart TVs.
While there are many other VPN options available, these two choices are among the best for ensuring a top-notch streaming experience in New Zealand.
Both ExpressVPN and NordVPN provide the essential features needed to access popular streaming platforms and enjoy your favourite shows without restrictions.
So, grab your snacks, get comfy, and enjoy a fantastic streaming experience with these impressive VPN selections.
Examining VPN Advanced Security Features
When you're on the hunt for the best VPN for New Zealand, it's essential to look for providers that offer advanced security features to ensure your online activities remain protected.
In this section, we'll take a closer look at some of these features and why they matter.
One critical aspect to consider when choosing a VPN is military-grade encryption, also known as AES 256-bit encryption.
This level of encryption provides you with the reassurance that your data will be securely encrypted, making it nearly impossible for prying eyes to decipher.
Additionally, you'll want a VPN that offers perfect forward secrecy.
This feature ensures that even if someone were to intercept your encrypted data and somehow break the encryption, they still wouldn't be able to access past or future sessions because the encryption keys change with each connection.
To further enhance your online privacy, keep an eye out for VPN services with robust DNS leak protection.
This feature prevents your DNS requests from being visible to your ISP, ensuring your browsing habits remain hidden.
Another important security measure to consider is IP leak protection, which ensures your real IP address is never exposed during your VPN session.
This feature is particularly crucial if you're trying to access content that's blocked in your region or maintain anonymity while online.
Make sure to assess the privacy features offered by VPN providers, such as a strict no-log policy and killswitch functions.
A no-log policy means that the VPN provider does not store any information about your online activities, while a killswitch automatically disconnects your device from the internet if the VPN connection drops, preventing accidental data leaks.
By evaluating VPN services with these advanced security features in mind, you'll be one step closer to selecting the ideal VPN for your needs in New Zealand.
Remember, your online safety is paramount, so take the time to find a provider that ticks all the right boxes.
Bandwidth and Speed Considerations
When choosing a VPN for New Zealand, you'll want to ensure that it offers unlimited bandwidth and fast connection speeds.
Unlimited bandwidth means you won't have to worry about monthly data caps or throttling, which can be especially important if you plan to use your VPN for streaming, torrenting, or other data-intensive tasks.
It's not uncommon for VPNs to have slightly slower speeds than your regular internet connection, but it's crucial to find a VPN service that minimizes this impact.
A fast VPN will allow you to maintain a reliable connection while downloading large files, streaming high-quality video content, and browsing the web without any lags.
Performing speed tests can be a great way to gauge the performance of a VPN.
Many VPN services, such as NordVPN, boast lightning-fast speeds and reliable connections, making them ideal choices for Kiwis.
Keep in mind that factors like server location, encryption level, and network congestion can also impact your connection speeds.
To ensure the best performance, opt for a VPN with a large server network, ideally including several servers in or near New Zealand.
This will help you to maintain a strong connection and minimize latency issues.
In summary, look for a VPN with unlimited bandwidth, fast connection speeds, and a network of reliable servers that perform well in speed tests.
This way, you'll have a seamless online experience, regardless of what you're doing on the internet.
Make sure to give preference to VPNs that are highly recommended, such as ExpressVPN and Surfshark, as they're known for their superior performance and network quality.
Choosing VPNs with New Zealand Servers
When looking for the best NZ VPN, it's essential to consider VPNs with local servers.
Having New Zealand servers ensures faster connection speeds and better access to local content.
So let's explore some factors you should consider before making your decision.
Firstly, consider the number of NZ servers a VPN offers.
The more local servers a VPN has, the less crowded they are likely to be, resulting in a better overall experience for you.
For example, NordVPN has dozens of servers in New Zealand, while ExpressVPN and Surfshark also provide ample server options.
Next, examine the security features provided by the VPN.
Ram-only servers are an excellent choice for added privacy and security, as they don't store any information on hard drives.
ExpressVPN offers TrustedServer technology, which uses ram-only servers, making it a top choice for users concerned about their data safety.
When it comes to streaming or accessing content, check which VPNs can bypass geo-restrictions.
For instance, ExpressVPN has a proven track record of unblocking Netflix and Amazon Prime Video, as well as providing robust security features like military-grade encryption and private DNS.
Lastly, weigh up the cost of the VPN service.
While some premium VPNs offer extensive features, more affordable options like Surfshark also provide unlimited connections and high-speed VPN services without breaking the bank.
To sum up, when choosing a VPN with New Zealand servers, focus on server count, security features, streaming capabilities, and cost.
By considering these factors, you'll be able to find the perfect VPN to suit your needs and keep your online activities secure and private.
Benchmarks for Customer Support
When looking for a top-notch VPN for New Zealand, you'll want to consider the quality of customer support provided by each service.
It's essential that you choose a VPN with reliable and responsive customer support to ensure that you have a smooth and hassle-free experience.
One aspect of customer support to pay attention to is the availability of live chat support.
With fast-paced technological advancements, you'd expect companies to provide real-time assistance to make your life easier.
For instance, ExpressVPN is known for its 24/7 live chat support, ensuring that help is just a few clicks away whenever you need it.
In addition to live chat, you should also expect the VPN provider to offer multiple channels of support, such as email, phone, and social media.
This variety guarantees that you can reach out for assistance in a way that suits you best.
Remember, it's important to find a VPN that values you as a customer and goes the extra mile.
Another benchmark to consider is the quality and comprehensiveness of the support resources available.
A VPN provider with a well-organised and helpful knowledge base, covering topics such as troubleshooting guides, FAQs, and how-to articles, demonstrates their commitment to customer satisfaction.
This makes it easier for you to find the information you need without having to contact the support team directly.
Lastly, don't overlook the friendliness and expertise of the support team.
A casual and approachable tone when interacting with the support staff can make a significant difference in how comfortable you feel when seeking help.
Moreover, a knowledgeable team ensures that your concerns are addressed promptly and efficiently.
In summary, keep an eye out for VPN providers who offer exceptional customer support through various communication channels, provide comprehensive support resources, and have a friendly and competent team.
This way, you can enjoy your VPN experience in New Zealand with complete peace of mind.
Logging and Data Retention Policies
When you're looking for the best VPN for New Zealand, it's essential to consider the logging and data retention policies of the providers.
You want to make sure your personal information remains secure, and your online activities stay private.
Many top VPN services, like NordVPN, take your privacy seriously and have a strict, audited no-logs policy in place.
This means they don't keep any records of your online activities, ensuring that your personal data won't be shared with third parties.
However, not all VPN providers have the same approach to handling your information.
Some might log minimal data like timestamps or connection details, while others may retain more extensive records.
It's crucial to read the privacy policy of your chosen provider carefully and understand what kind of data they store, if any.
Also, pay attention to where the VPN company is based.
Jurisdiction can play a role in how your data is treated, as different countries have their own laws regarding data retention and cooperation with authorities.
For example, countries that are part of the 5/9/14 Eyes Alliance may have more lenient privacy regulations and could share your information with other nations.
All in all, when choosing a VPN for New Zealand, take the time to research their logging and data retention policies to ensure your personal information stays safe, and you retain control over your own privacy.
Relevant Aspects of Free Versus Paid VPNs
When considering VPN options for use in New Zealand, you should examine the differences between free and paid services.
So, let's take a look at some aspects you might want to consider.
Firstly, free trials and money-back guarantees are essential factors in choosing a VPN.
Many paid services offer a free trial for you to test their performance and see if they meet your needs.
On top of that, providers like NordVPN and ExpressVPN offer a 30-day money-back guarantee, while others might give you up to a 45-day money-back guarantee.
This way, you can make sure you're investing in the right service for your needs before fully committing to it.
Regarding affordability, paid VPNs often offer a wide range of pricing plans.
You can choose a suitable plan based on your budget, from monthly to annual subscriptions.
Sometimes, providers like Surfshark even offer competitive prices that don't break the bank.
Now, let's talk about free VPN services. While it's tempting to opt for free services, they might not always provide the best performance.
Slow connections, limited server locations, and data caps can be major drawbacks.
On the bright side, for casual browsing, free VPNs like Windscribe could be a suitable choice.
Lastly, the reliability and security of your chosen VPN are crucial aspects.
Generally, paid VPNs offer more robust security features like higher encryption levels, no-log policies, and kill switches.
However, some free services, such as ProtonVPN, still manage to provide a satisfactory level of security.
So, take your time weighing the pros and cons of free and paid VPNs, and remember to make use of free trials or money-back guarantees.
That way, you'll find the right fit for your online adventures in New Zealand.
The Extra Benefit of Multi-Device Support
In today's fast-paced digital world, you likely use a variety of devices to connect to the internet.
Picking a VPN with multi-device support not only ensures that all your gadgets are protected but also adds convenience to your online experience.
So let's dive into the world of multi-device support!
Amazon Fire TV: A top-notch VPN typically comes with support for streaming devices like Amazon Fire TV.
This means that you can easily unlock geo-restricted content, such as your favourite TV shows or films, and enjoy a smooth streaming experience with your VPN in place.
Game Consoles: Are you a gaming enthusiast? Well, you're in luck!
Quality VPN services also extend their support to popular game consoles, making sure that your gaming sessions are secure and free from pesky lags or latency issues.
Just imagine playing online games without worrying about DDoS attacks or losing your connection in the middle of the action.
Operating Systems: Good news for users across different platforms – top-rated VPNs usually offer compatibility with various operating systems like Windows, macOS, Linux, Android, and iOS.
So, whether you're browsing on your laptop, smartphone, or tablet, your VPN has got you covered.
You can make use of powerful encryption and ensure that your online activities remain private, regardless of your device of choice.
When choosing a VPN, pay attention to the number of devices it allows you to connect simultaneously.
Some services permit up to five devices, while others are more generous with their multi-device support.
This means you can easily share your VPN with household members or switch between gadgets, making your online life more seamless and secure.
Now that you've got a handle on the perks of multi-device support, take a moment to reflect on your digital needs and seek a VPN that ticks all your boxes.
Embrace the peace of mind that comes with comprehensive internet protection across all your devices.
Specific Reviews of VPN Providers
When looking for the best VPN for New Zealand, consider some of these top providers that cater to various needs and preferences.
ExpressVPN stands out as a leading option for New Zealanders.
Known for fast servers and the ability to unblock Netflix and Amazon Prime Video, ExpressVPN also offers strong security features and 24/7 live chat support.
Editors note: I've been a happy ExpressVPN customer for years.
NordVPN is a popular choice as well, boasting dozens of servers in New Zealand and over 5,500 servers worldwide.
What sets it apart is its strict no-logs policy and Double VPN servers, ensuring top-notch security.
Also worth mentioning is its budget-friendliness without compromising quality.
CyberGhost VPN is a reputable option, providing a good balance of performance, security, and user-friendliness.
It's perfect for those who are new to VPNs and need a simple, yet effective choice.
If you're aiming for unlimited simultaneous connections, Surfshark is worth checking out.
As a budget-friendly VPN, it allows you to share your connection across multiple devices without breaking the bank.
Private Internet Access (PIA VPN) keeps your online activities secure with its strong encryption and no-logs policy.
Moreover, PIA offers a solid range of server locations worldwide, ensuring good connection speeds.
Atlas VPN is a newcomer to the VPN market, but it's already making a name for itself.
This provider offers a user-friendly interface and a decent server network, making it a great choice if you're new to using VPNs.
Lastly, Hotspot Shield is renowned for its fast servers, and it's perfect if you're into streaming high-quality content or indulging in online gaming.
With Hotspot Shield, you can enjoy an excellent, dependable connection.
So, consider these top VPN providers when searching for the ideal solution to keep your online activities secure and private while enjoying a seamless experience in New Zealand.
Geographical Considerations
When choosing a VPN for New Zealand, it's essential to take geographical considerations into account. Connecting to a server closer to your location usually results in better performance and faster speeds.
Many top VPNs have servers in New Zealand, like NordVPN and CyberGhost, making it convenient for you to enjoy a seamless online experience.
However, sometimes you might need to connect to servers in other countries like the United States to access specific content or services.
Fortunately, well-established VPN providers offer extensive worldwide server networks, so you can always find a connection point that meets your needs.
In conclusion, there are several top VPNs to choose from when searching for the best New Zealand VPN.
Your choice will ultimately depend on your specific needs, such as speed, security, or budget.
Regardless of your decision, you'll be well-equipped to enjoy a safe and secure online experience.