Are you planning your next adventure overseas and wondering how to manage your travel money seamlessly? The Wise debit card is your ideal companion in this journey.
Formerly known as Transferwise, Wise is a popular money transfer platform that offers a travel money card specifically designed for travellers like you and me.
This travel card acts like a prepaid debit card that allows you to spend and send money globally using the real exchange rate.
You can eliminate confusing bank fees while withdrawing money from millions of ATMs worldwide, making payments in restaurants, and shops, and even booking your flights and accommodations.
The card takes the worry out of using ATMs overseas by allowing you to withdraw up to 350 NZD free of charge before incurring a small withdrawal fee.
With the Wise travel card in your wallet, you gain more control over your expenses, making it easier to stick to your budget while enjoying your trip.
You can get a Wise debit card for your travels using this link, and embrace the convenience of hassle-free transactions and massive savings wherever you go.
Wise Debit Card Overview
Wise Multi-Currency Account
The Wise Debit Card is linked to a Wise Multi-Currency Account, designed to help you manage multiple currencies more efficiently than a traditional bank account.
The Wise Multi-Currency Account allows you to hold, receive and send money in over 50 currencies worldwide.
It simplifies your foreign transactions by offering real-time mid-market exchange rates, giving you more control over your finances and reducing hidden fees.
By opening a Wise account, you can access the following benefits:
Hold money in 50+ currencies
Send money to 70+ countries
Convert money at real-time exchange rates
Receive local account details, such as sort code, for major currencies
No foreign transaction fees
Physical and Virtual Card Options
Wise offers both physical and virtual card options when it comes to their debit cards.
This makes it ideal for travellers, allowing them to use the card in multiple locations without carrying cash or relying on bank accounts with higher fees.
The physical Wise Debit Card is accepted in over 150 countries, making it an excellent travel companion.
There are no foreign transaction fees, and the physical card allows you to withdraw up to 2 times for free at overseas ATMs per month, as long as you don't exceed a combined $350 withdrawal.
The virtual card option is perfect for online purchases and subscriptions.
It eliminates the need for a physical card and can be used for hassle-free currency conversions without worrying about exchange rates or hidden fees.
The virtual card is a secure alternative to your traditional bank debit card, ideal for managing your finances in multiple currencies.
The Wise Debit Card provides a versatile and cost-effective solution for travellers and individuals managing multiple currencies.
With a Wise Multi-Currency Account, you can enjoy the benefits of real-time exchange rates, lower fees, and flexible card options, making your international spending experience more convenient and worry-free.
Using the Wise Debit Card
Adding Money to the Account
To begin using your Wise debit card, you must add money to your account.
You can fund your account via bank transfer, POLI or credit or debit card.
As you can see from the screenshot above, with an example of depositing $100, depositing by Manual Bank Transfer is the cheapest but slowest way to add funds to your Wise account.
I recently added some funds from BNZ to Wise via Manual Bank Transfer, and it took 1.5 hours to arrive. Worth the time for the savings, though.
Once the money has been transferred, it will be available to use with your Wise debit card.
Ensure you have sufficient New Zealand Dollars (NZD) in your account to cover your intended transactions.
Converting Currencies
Wise offers low conversion fees and transparent pricing based on the mid-market rate.
To convert currencies, initiate an international money transfer through the Wise app or website.
You can convert your New Zealand Dollars to various currencies before spending, ensuring you get the best exchange rate possible.
Spending Money in New Zealand and Overseas
Your Wise debit card can be used for purchases in New Zealand and foreign countries.
This pre-paid debit card enables contactless payments and is also compatible with Google Pay and Apple Pay, making it convenient for shopping online and in-store.
The card transaction fees are usually low, allowing you to save money when using your Wise card compared to traditional bank cards.
Withdrawing Cash
To withdraw money, locate an ATM that accepts Mastercard and use your Wise debit card to access your funds.
Wise offers free ATM withdrawals in foreign currencies up to two times per month, after which a small fee applies.
Remember that some local ATM fees may still apply, so it's best to research the specific charges beforehand to avoid surprises.
Instant Transaction Notifications
One of the benefits of using a Wise debit card is the instant transaction notifications feature.
You'll receive real-time notifications on your phone or email when you spend money or withdraw cash.
This helps you keep track of your spending and monitor your account more closely.
By following these steps, you can make the most of your Wise debit card experience while travelling from New Zealand or using it domestically.
Wise Virtual Card
Wise virtual cards are available for the Wise Borderless Account on debit cards issued in New Zealand.
This makes it easy to shop online or make payments online or use contactless payment with your phone.
Using a digital card is a smart way to shop when you don't trust a company with your details (I'm looking at you, Temu), as you can easily discard the virtual card details and generate a new one.
You can also use Apple Wallet and Google Pay with your Wise account.
Fees and Charges
When using the Wise Debit Card for your travels, you can expect transparency and convenience regarding fees.
This section outlines the various fees associated with the Wise Debit Card for travellers from New Zealand.
Currency Conversion Fees
The primary reason for using the Wise Debit Card is to enjoy low currency conversion fees.
Wise uses the mid-market exchange rate without any hidden costs, ensuring that you can easily convert your New Zealand Dollars into foreign currency.
When you spend money in a currency you hold in your account or convert currencies in the Wise app, you'll only pay a small fee based on the transaction amount.
ATM Withdrawal Fees
The Wise Debit Card allows you to withdraw money from ATMs at low fees.
You can make up to two withdrawals for a total of $350 NZD each month for free.
After that, a 1.5 NZD fee per cash withdrawal applies. Additionally, there's a 1.75% fee on any amount you withdraw above 350 NZD.
This is still a competitive fee compared to the main New Zealand banks as you can see from the table below, and as Wise's exchange rates are the mid-market rates, you'll probably still end up better off.
However, we personally try to withdraw just $350 per month in cash.
| | | |
| --- | --- | --- |
| Provider | ATM Fee | Foreign Currency Fee |
| BNZ | none | 2.25% |
| Westpac | $3 or free with Global Alliance Partner ATMs | 1.95% |
| Kiwibank | $6 | 2.50% |
| ANZ | none | 1.30% |
| ASB | none | 1.10% or 2.20% |
| Wise | Free up to $350/month, $1.50 over $350/mth | 1.75% |
Card Issuing Fees
Getting the Wise debit card comes with no issuing fee or annual fees.
However, if you lose your card or need a replacement, there might be a small fee to cover the cost of producing and sending out a new card.
Check Wise's pricing page for further details on card replacement fees.
Transaction Fees
Wise ensures that you only pay for what you use, and thus, transaction fees remain minimal.
When you use the Wise Debit Card for online payments, shopping online or in-store, or withdrawing money from your Wise account, you'll find that the fees are significantly lower compared to traditional bank cards.
There are no hidden fees or monthly fees associated with the card.
In conclusion, the Wise Debit Card offers travellers from New Zealand a reliable and cost-effective solution for managing their finances, currency conversions, and transactions while travelling overseas.
By understanding the fees and charges involved, you can make the most of your Wise Debit Card experience and enjoy your travels without financial worries.
Wise Card Review: Customer Since the Beginning
I feel uniquely qualified to do a Wise card review as a user since Wise (then Transferwise) introduced their debit card to the New Zealand market in 2019.
I have used my Wise card in the United States, United Kingdom, Ireland, Spain, Singapore, Malaysia, Thailand, Australia and, of course, New Zealand.
It is an essential tool in my travel kit and the primary way my husband and I spend money when we travel to keep currency conversion fees to a minimum.
The main benefits for us are the low currency conversion charges, transparent fees, and the ability to make international money transfers from within the Wise app easily.
I tend to hold funds in New Zealand Dollars (or United States Dollars as I am paid in USD), converting money as we reach a new country.
For example, when we travelled to Malaysia, I opened a new MYR (Malaysian Ringgit) wallet on Wise and transferred our monthly travel spending allocation over.
As we tend to stay longer when we travel, this works well for us as it allows us to track how much we are spending and in what categories.
The spending tracker is one of the Wise card features I like the most #personalfinancenerd.

For short trips or stopovers, holding funds in NZD and allowing Wise to apply the conversion fee at the time of purchase works well.
I also find that Wise consistently has the cheapest conversion fee when it comes to sending money to family overseas.
Wise Debit Card Review: Frequently Asked Questions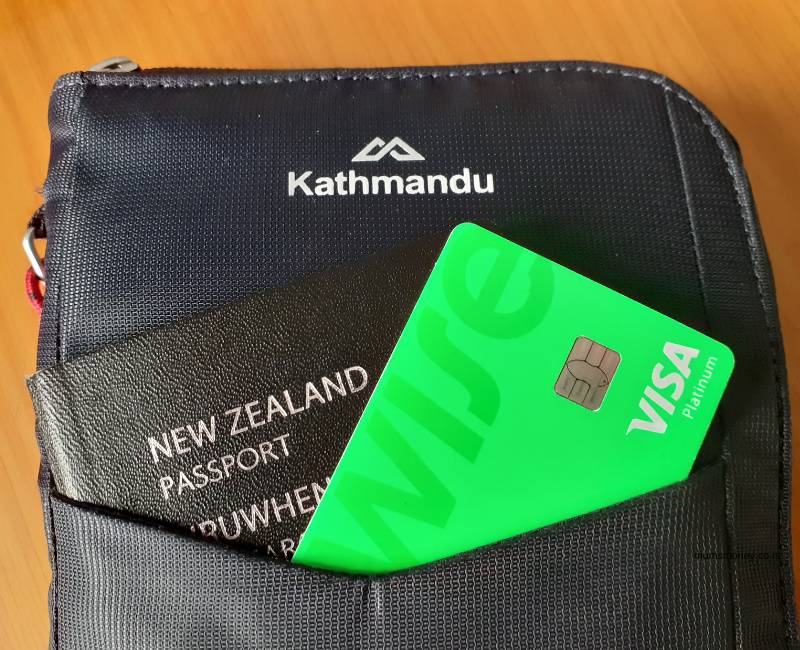 Is it worth getting a Wise card?
Yes – absolutely! It's the best travel money card available in New Zealand by a long shot.
The Wise card can save you money on exchange rates (they use the mid-market exchange rate) and foreign transaction fees and offers flexibility for international travellers to withdraw and pay in more than 50 currencies around the world,
Can Wise be used as a debit card?
Yes, Wise offers a debit card only. It must be linked to a Wise multi-currency account which is where you hold the New Zealand dollars you add to the card, as well as any foreign currency wallets you choose to open.
Can I use a Wise card in New Zealand?
You can absolutely use your Wise card in New Zealand. This is a good way to use up any leftover foreign currency in your online wallet without massive currency conversion fees.
I recently spent $24.09 at New World, using small amounts left over in my multiple wallets, so the transaction was made up of NZD, AUD and EUR.
You can see how the different currencies were used up in the screenshot below.
According to Wise:
If you don't have the currency you need in your account, you can still spend money. Our Smart Conversion technology will automatically convert the balance for you that has the lowest conversion fee.

If the currencies that you hold in your account have the same conversion fees, we'll use the one with the best exchange rate, so you get the most for your money.
Wise will always choose the option that saves you the most money, using up the local currency first.
What is the difference between a Wise debit card and a credit card?
The main difference between a Wise debit card and a credit card is that a debit card is linked to your Wise account and allows you to spend only the money you have in your account.
While a credit card allows you to borrow money up to a predetermined credit limit and is issued by a bank.
Wise does not offer credit cards. So there's no chance of going into debt or overdraft with a Wise account.
It will simply decline the transaction if there is no money in the account.
Can I get a Wise card in NZ?
Yes – to get a Wise debit card, you can sign up here. The card issuing fee is $14, and you can choose to pay for expedited shipping if you are in a rush.
Allow two weeks for the card to arrive after signup.
Can I use a debit card on TransferWise?
You can top up your Wise Card balance with a debit card.
Is Wise considered a bank in New Zealand?
No, Wise is not considered a bank in New Zealand. Wise Payments Ltd., which operates in New Zealand as a foreign entity, is not licensed by a New Zealand regulator to provide its services.
However, it is supervised by the Department of Internal Affairs (DIA) for anti-money laundering purposes.
If you have a borderless account with Wise, it is considered an electronic money account, which is different from a bank account.
Sign up for a Wise debit card for your travels using this link, to save on fees and get the best exchange rate wherever you go.