If you're serious about making money from home and like watching TV or videos, have you considered closed captioning as a career?
As there are available captioning jobs for both experienced and new caption writers, it's a varied and interesting role that can also pay pretty well.
Job satisfaction is another plus.
You'll be translating the spoken word into written form primarily for the deaf or hard of hearing, so it's a genuinely useful and inclusive kind of role too.
If you're interested in becoming a closed captioner, this guide takes you through everything you need to know.
Including the types of work available, the skills you'll require, how much it pays and where to find work.
Frequently asked questions are also covered.
Closed captioning jobs can be divided into two main types – real-time captioning and offline captioning.
So what's the difference – and what, in fact, do closed captioners do?
Read on to find out more about this line of work.
Types of Captioning Jobs
Real-time captioners are usually people who are already experienced in this field.
In this case, the caption writer has to keep up with a fast pace, so they need an impressive typing speed to create captions.
This involves caption writing to keep up with a live TV broadcast, such as news broadcasts.
It may also involve using the sort of stenographic equipment court reporters have, so specialist knowledge is required as well as accurate typing at considerable speed.
An offline captioner doesn't necessarily require stenographic skills, captioning software or a bachelor's degree.
They are not under the same pressure as a real-time captioner, as they get paid per video minute rather than having to keep up with a live broadcast.
In many cases, the only equipment needed is a desktop or laptop computer rather than a stenograph machine.
Work-at-home closed captioning is, therefore, easier to get into.
It's not as highly paid as real-time closed captioning, but you should be able to find closed captioning jobs without specialised equipment or experience.
As a beginner, it's best to start looking for offline captioning work.
All you need is essential equipment like a computer and internet connection; this is flexible work you can fit around your lifestyle.
You could always make the more lucrative business of real time closed captioning something to aim for in the future, as part of an ongoing career path.
Caption Writer Skills
Before you go seeking out a specific closed captioner job description, do you have what it takes to succeed as an offline captioner?
These are some of the key requirements.
Basic equipment
You'll need at least a computer and a fast, reliable internet connection.
Headphones are also very useful for blocking out background noise.
In time you may wish to invest in a stenograph machine and foot pedal to speed things up, but they're not initially important.
Typing speed
If you want to make a reasonable amount of money, then it's worth taking a typing test to see if your skills are up to scratch.
You can do that for free with typingtest.com here.
English language
To work in many countries, you'll generally need a good understanding of the English language – although foreign language opportunities do also exist.
Sometimes, it can also be useful if you can lip-read a little, to help you make out words and meanings that may be unclear.
If you only have one language, but that happens to be English, then you're in a very fortunate position.
Time codes
You may also need a basic understanding of time codes to work in video captioning jobs.
These are used to number the video frames so it's easier to synch the written and spoken word.
You can find a YouTube video on time codes below, which is under five minutes long.
Personal skills
If you want to set up any successful home business, you'll need the drive and enthusiasm to make this your part or full-time job.
You'll also require the ability to organise and manage your own workload.
Offline Captioning Pay
An offline captioner is paid per video minute rather than in real-time.
So you'll be paid more for a longer video than a shorter one.
The quicker you can type and keep up with creating video captions, the more money you will make.
Listening and typing quickly and accurately is, therefore the key to success.
Until you gain experience, you're not likely to get paid very much, but as your listening and recording skills improve your income will increase.
As with many freelance jobs, it's best to take a longer-term view when considering offering a captioning service.
If you want to get started in offline captioning, these are some of the companies who will take on both newcomers and more experienced captioners.
Rev
Rev is one of the best-known and most reputable companies offering offline caption writing gigs – and they're one of a few that take on newcomers.
If you lack experience, we recommend trying Rev first.
To work for Rev from home, you'll need an internet connection, a computer and strong English language skills.
You can sign up via the Rev website, which takes under an hour.
In return, you'll be paid weekly via PayPal for each completed job.
Caption Max
Caption Max employs freelance offline captioners and the staff who work in their offices.
Just fill out the online form and upload your resume to be in with a chance of them making contact.
FlexJobs
Unlike Rev and Caption Max, FlexJobs doesn't specialise in offering captioning work.
Nonetheless, it can be a good resource when seeking this kind of work.
At the time of writing, a search for 'captioner' on FlexJobs revealed 116 vacancies available all over the world and as home-based positions.
Vitac
Vitac is one of the leading captioning companies, and they do take on remote staff.
As they provide both real-time and offline captioning, there are jobs in both areas advertised here.
Aberdeen
Aberdeen regularly takes on real-time captioners, and you can find out more about this kind of opening here.
Captioning Star
Captioning Star is another site that's good for those seeking work as a real-time captioner. Check out their current freelance opportunities here.
Talking Type
As Talking Type provides a real-time and offline captioning service, it may be worth contacting them to ask about current openings.
U.S. Captioning Company
Scrolling down the homepage, you may find that the U.S. Captioning Company are hiring.
You can then click the button to submit your resume.
Resources for Online Captioners
These two professional organisations should be your first port of call when you want to work as a closed captioner.
One specialises in court reporting, while the other focuses on broadcasting.
National Court Reporters Association (NCRA)
The NCRA – there's more on them just below – is also an interesting site to browse.
Though the positions may not be suitable for beginners, they do have a dedicated jobs section so you can see the type of work you may be able to do in the longer term.
When researching this article, for example, they were advertising 111 captioning jobs.
Many of these were in court reporting, but some were in other areas such as broadcasting.
National Captioning Institute (NCI)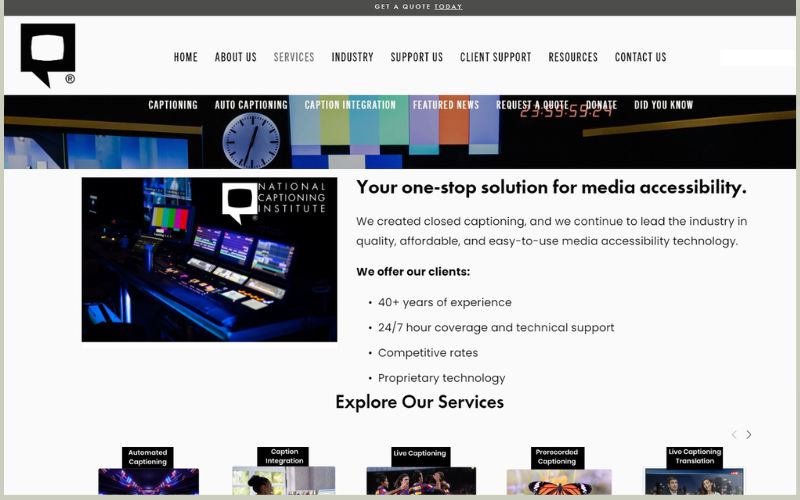 The National Captioning Institute is a good site to check out if you're interested in broadcasting.
Take a a look at their list of current job openings if you think you might ever want to work for them – or, indeed any similar organisation.
Browsing this site and the jobs board will also give you a deeper understanding of the role and what it entails.
Closed Captioner Training
If you want to establish a long-term career in closed captioning, the National Court Reporters Association website is a good place to look for trustworthy advice.
Given that they're responsible for setting the actual certification standards in the US, it's the best place to find guidance.
For those who want to work as a court reporter or in real-time closed captioning jobs, getting certified will be necessary before many companies will hire you.
The full name of this organisation is the 'Association for Court Reporters and Captioners', so they are a highly reliable source of information.
Becoming a Closed Captioner – FAQs
Let's turn to Rev, one of the leading closed captioning companies in the market.
They say that you can make around 40 to 80 cents per video minute.
So how much you can earn per hour varies according to how many video minutes you can caption in a one-hour period.
If you take a look at the NCRA website, a court reporter working for one of the US states can earn from around $30 per hour.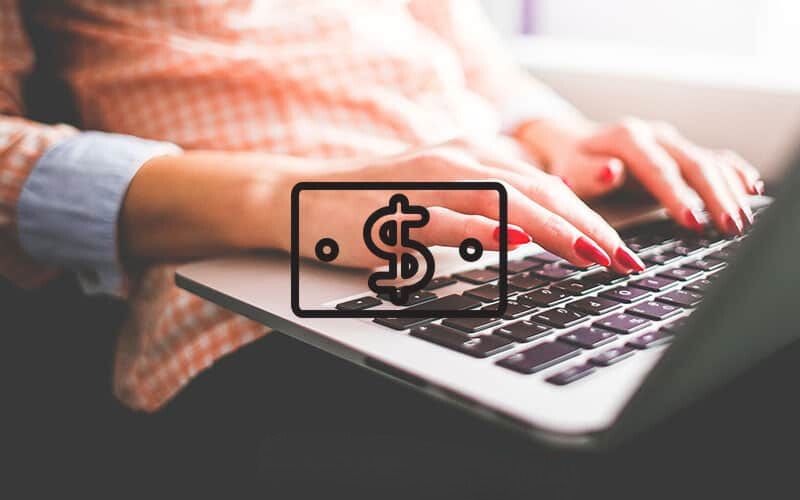 Rev's average closed captioner makes about $250 monthly, while their leading earners are raking in more than $1,600.
It all depends on your speed and the amount of work you put in.
A real-time closed captioner can earn a lot more. The rewards are far more generous because it's a more skilled, demanding and stressful role.
It's said that real-time captioning may pay full-timers around USD $100,000 per year – or more.
In fact, some positions for court captioning jobs, as advertised on the NCRA site, state a salary of between approximately $95,000 and $115,000 per year, although some states and roles do pay less.
You can become a closed captioner as long as you have the basic skills and equipment required.
Simply check out the above list of companies to approach and you can make a start.
You could be doing closed captioning jobs within just days if you're persistent – and perhaps have a little luck with timing.
There's nothing to lose by giving it a go!
Some court reporting and closed captioning jobs will specify that a degree is required – but it's by no means always necessary.
What matters most is the tenacity to succeed and your willingness to practice until you master the craft.
The faster you type the more you'll get paid – it's as simple as that. This is because you're paid per video minute, nor per minute in actual time.
Remember, your typing speed can only improve with practice. We all have to start somewhere!
Becoming a Closed Captioner – Final Thoughts
If you want to help the hearing impaired while getting paid to do an interesting job, becoming a caption writer might just be your role.
Why not look at the job listings via the links provided above to whet your appetite?
A similar role to that of a captioner is that of the transcriptionist.
If you would like to transcribe audio or video into written copy, why not check out this post on how to be a transcriptionist?
Related: