Finding a way to make money online has become the goal of many New Zealanders, whether it be a side hustle or an online business.
As we leave the pandemic behind, people are discovering how much they love working from home and some are wondering how to make money online so they can switch to this lifestyle permanently.
Now is a perfect time. With the rise in fibre broadband installations across the country, we have a world-class broadband service making internet access faster and easier than ever before.
Whether you want to make extra money, work from home or become an online entrepreneur, I hope you'll find something useful here.
19 Ways to Make Money Online – NZ Edition!
Since my entire income for the last nine years is from making money online from New Zealand, I wanted to give you a helpful list of ways to make money online (and from home) from Aotearoa.
1. Take paid online surveys
Taking surveys for money is an excellent boost to your online income. You can easily earn over $200 per month if you sign up for multiple NZ survey companies.
My favourites include:
Opinion World one of the best in New Zealand,
Pureprofile – high paying survey site with generous referral program.
Rewardia games and quizzes as well as surveys,
Valued Opinions high paying legitimate surveys, excellent selection of gift card rewards,
Ipsos i-Say backed by a huge international company, regular surveys.
If you want to make money from paid surveys, I recommend you join multiple sites to maximise your chances of always having a survey available.
I have written a more in-depth review of some of the best-paid surveys NZ has to offer here.
Note: Octopus Group surveys are launching in New Zealand and recruiting new participants. They are Australia's highest-paying survey site (averaging around $16/hr) and very popular with our Aussie readers. Survey rewards are available in cash, paid direct to your bank account or with gift vouchers. Join Octopus here
Nielsen Computer and Mobile Panel reward you for sharing your online activity so they can track internet usage to identify trends and behaviours.
The simplest of extra income ideas, Nielsen Computer and Mobile Panel require you to install a secure piece of software on your computer or an app on your mobile and keep it installed for a minimum of 14 days, although you should keep it installed long term if you want to continue to earn money online in this manner.
Nielsen states the software will not slow down your computer or impact performance in any other ways.
Online surveys and other earning opportunities will then appear on your computer as pop-ups as they become available or you can simply earn by using your device as normal.
You can register multiple devices and will earn more for doing so.
You must be the owner of any computer you install the software on and over 18 years of age to participate. Join Nielsen Computer and Mobile Panel today.
3. Scan your groceries
Did you know Nielsen Homescan rewards you for scanning the barcodes of your groceries?
This is an easy way to earn vouchers, redeem for items and win prizes in New Zealand.
Once you've completed the signup, you will be sent a handheld scanner in the mail or you can download the app.
The information you enter is transmitted weekly.
Then your account is credited with points which you can use to redeem a range of items from a catalogue, including electronics, gift cards, toys and household items.
Click here to join Nielsen Homescan
Related: 13 Best Money Making Apps in New Zealand
4. Get cashback and free signup bonuses with Ebates/Rakuten
Ok so this isn't technically a way to make money, more a saving money tip – but I earn a couple of hundred dollars (US dollars at that!) each year by using Ebates for my online purchases.
Since I buy almost all my books from Book Depository and do travel bookings with hotels.com and booking.com – this really adds up.
Two things to be aware of – you'll need a Paypal account for payment. That's easy and free to set up here and simple to transfer from Paypal to an NZ bank account so you can actually spend the money.
You'll also get $10USD free when you make a $25USD qualifying purchase when you join with this link.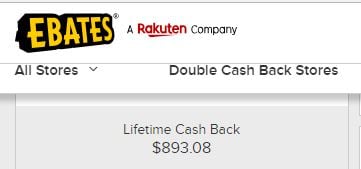 Ebates will only pay you once your balance hits $5USD, if it's under the threshold your balance will roll over to the next quarterly payment period.
I've been with them for three years and never had a problem getting paid. Plus, it's money I was going to spend anyway so I'm in love with Ebates (and you can read the full Ebates/Rakuten review here)
5. Start a Service business
Offering a service from home is the simplest way to get started making money online.
You could use the skills you've acquired throughout your professional life to build a repertoire of offerings such as appointment-making, proposal writing, procurement, travel bookings, and personal shopper.
If you are prepared to work away from the computer, you could use your skills to do the cleaning, ironing and other tasks for customers.
Here's a handy list of home business ideas to get you started.
6. Become a Freelance Writer

Can you string a sentence together? If so, freelance writing is an excellent way to work from home, NZ and overseas businesses always need content for websites, memos, press releases and more.
Freelance writing was how I got my start working online from New Zealand.
I used Upwork to build a profile and wrote for publications in Australia and the U.S. It was a little difficult writing in American English but the money was worth the effort.
I wrote about how to get your first writing job on Upwork here.
7. Become a Trademe Seller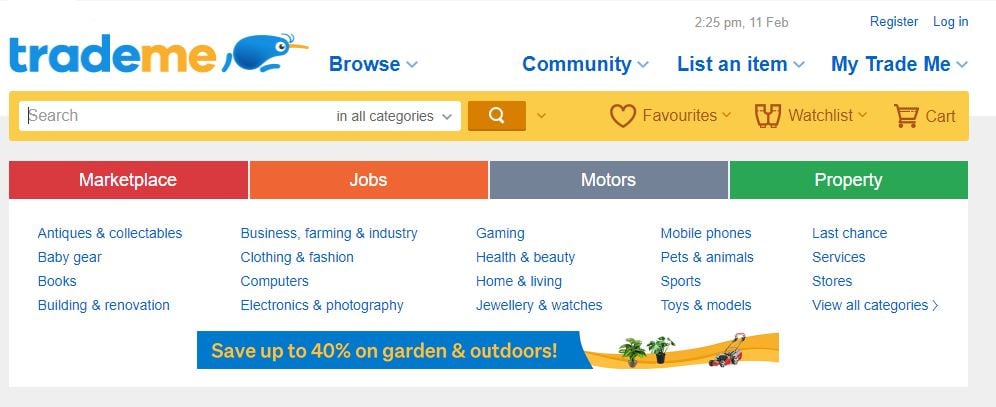 Whilst not strictly online, selling on Trademe can be a brilliant way to make money online from home in New Zealand.
You will need to get out and about to source items and make deliveries, but it can definitely be worth your while.
David, an experienced Trademe seller, wrote a list of his top ten Trademe selling tips on the blog.
8. Data entry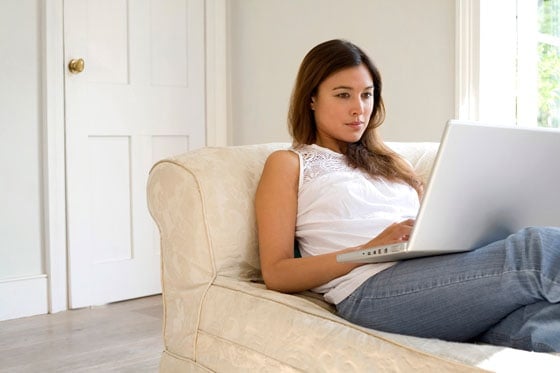 If you have experience and can type quickly and accurately, data entry jobs from home could be just what you're looking for.
Check out Upwork, Fiverr and Freelancer.com as well as Trademe and Seek.
9. Customer service
CSR's (Customer Service Representatives) are the most commonly occurring jobs under Seek's Work From Home listings.
If you've got experience, working from home as a CSR is one of the simplest transitions to make as most employers will provide you with the full setup from home.
10. Test websites and provide feedback
You can earn money from home in NZ by testing other people's website.
You'll earn $10USD per 20-minute test.
You'll need a good internet connection and very clear spoken English.
User testers provide valuable feedback to website owners about website navigation and use.
Click here to read more about becoming a user tester.
11. Become a Virtual Assistant
If you have experience as a personal assistant, executive assistant or in general office administration, starting a virtual assistant business from New Zealand could be your most profitable route.
A virtual assistant (shortened to VA) is someone who provides services for someone else in exchange for an agreed upon rate of pay. Basically, you do some work, and they pay you for it.
It might sound like any other job out there, but it's very different. When providing virtual assistance, picking the tasks you do and when you do them is totally up to you.
Setting your own hours to work around your family, school, or other obligations is a real possibility.
Abbey Ashley from The Virtual Savvy runs a 60-minute FREE training webinar on how to become a booked-out virtual assistant. The training includes ideas on which services to offer, finding customers, scaling your business and more.
Note: Just because you're in New Zealand, doesn't mean you have to restrict yourself to customers here. In fact, I recommend you don't.
We are a very small country, and depending on the type of business you offer, you might have more success in targeting customers in Australia, the United Kingdom or even the United States.
Over half of my income comes from the United States, even though I live in New Zealand.
12. Proofreading
Proofreading is becoming a more popular way to make money from home.
If you have an excellent eye for detail, becoming a proofreader is a business you can do from anywhere.
Check out our guide on how to become a proofreader here.
13. Become a transcriptionist with REV
Can you type quickly and accurately? Becoming a REV transcriptionist might be a great way for you to earn extra money from home.
Transcriptionists turn audio files into typed documents using a free online editor developed by Rev. You'll need to be able to listen closely and type what you hear.
You can earn between $0.36USD and $0.45USD per audio minute of transcription.
You can pick and choose jobs that interest you. Payment is made weekly via PayPal.
Learn more about becoming a Rev transcriptionist here.
14. Review music
Love music? Record companies and indie publishers appreciate feedback before going to market with new music.
Check out slice the pie to be rewarded for sharing your opinions on new music before it hits the charts.
15. Affiliate Marketing
Affiliate Marketing is when you promote a product on a website or social media and receive a commission on any sales made from your referral.
It can be a lucrative business to make money through internet marketing but you'll need to grow an audience of potential purchasers first, which means affiliate marketing is a long game.
Affiliate marketing is how I started to make money from my blog, and it now makes up over 60% of my online income, which is great as affiliate marketing can be truly passive income.
16. Blogging
Blogging is how I make the bulk of my income online. I run my blog as a business now, but for many years it was just a hobby.
Making the transition from hobby to business came about after I invested in blogging courses that helped me see the income potential from blogs.
If you have a special interest in a particular topic, blogging can be a great way to get started making money online.
Blogging income comes from many different sources, including sponsorships, affiliate marketing, advertising income, course sales and more.
At last count, my blog had 8 income streams which pay me each month.
The great thing about a blog is how easy and cheap they are to start off. Click here to learn more about how to make money blogging.
17. Teach English online
Teaching English online is a relatively new field for Kiwis.
That's because a lot of countries prefer American English speakers, but there are some companies open to hiring Kiwis with the right experience and qualifications.
You can earn up to $21USD per 40-minute lesson and work as much as suits you.
During the week, lessons are mainly at night (starting 6 pm Beijing time – 11 pm New Zealand time!). On the weekends they are all day long so you can really make a lot of extra cash on top of your Monday-Friday gig if you hustle hard.
You'll need to be a native English speaker with a bachelor's degree in any field and some teaching experience. Read more on how to start teaching English online
18. Sell pictures of your feet
Ok I get this sounds totally wacky but would you believe there is a huge demand for feet pics.
So if you have half-decent-looking feet, you could make some extra cash selling pictures of your feet online.
It's not just people with a foot fetish who buy feet pics, it can be shoe shops, stock image services and loads more.
Check out our in-depth guide to selling feet pics online to get your foot in the door of this interesting side hustle.
19. Start an Etsy Store
Etsy is an online marketplace for handmade goods that connects sellers with buyers via its network of Etsy store owners.
Etsy can be a simple method to generate income by making stuff you love while also offering items that customers will enjoy.
What are the best things to sell on Etsy? What are the most popular items to sell on Etsy, and how can you succeed as an Etsy store owner?
This article will walk you through the most popular and profitable items to sell on Etsy.
Why I Love Making Money Online
As a mum who makes a full-time income online, I am a total advocate for this lifestyle. And there has never been an easier time to earn money online from New Zealand.
I love working from home in school hours only, having a flexible lifestyle that fits completely around my family.
I never go into an office or need to answer to anyone but myself. Committing to finding a way to make money online was the best financial decision I have ever made.
I thought if I share everything I know about different ways to make money online, NZ readers might be able to find a way to earn extra income from anywhere with an internet connection.
If working online interests you – there are so many opportunities. I hope this article has been helpful.
Frequently Asked Questions (FAQ) – Make Money Online New Zealand
How can I make money online fast NZ?
The easiest way to make money online fast in New Zealand (or anywhere, for that matter) is to sell something – either an item you no longer use, or can flip, or a service that you can provide (writing articles, remote administration assistance, graphic design, programming, tutoring etc).
Making money online is no different to making money offline, if you offer a product or service someone needs and price it fairly, you will find a customer.
How can I earn extra money from home NZ?
This article lists myriad ways to earn extra money from home in New Zealand. From sewing to writing to online tutoring, there is no limit to the ways you can earn money from home.
Finding the best side hustle from home is different for every person and will depend on skills you already have, your work experience, life experience and interests.
Can I make $100 a day online?
Making $100 a day online requires serious dedication. It's more than just taking surveys and selling the odd item on Trademe.
To make $100 a day online you need to be constantly providing value to customers. Blogging, freelance writing, graphic design, flipping items, participating in online market research, working as a virtual assistant, selling digital items are all ways that you can make $100 a day online, if you are prepared to do the groundwork required to build a business and find customers.
Do you make money online? Any tips to share?
Related guides: