When it comes to money-making apps NZ options have been lacking for a long time. I'm pleased to report that is no longer the case.
Some people are surprised to learn about apps that make money or think they must be scams. Well, there are plenty of scams in the making money online world, but these apps aren't them.
As with most simple online tasks, you won't get rich from earning money apps, but you might just make enough to cover birthday presents or the little extras that always pop up during the year.
I make money with apps in the form of surveys or get paid to sites. Most of the make money apps will require you to participate in an activity in order to earn credit.
This usually means you fill out a survey or watch videos, play games or complete a task from your phone and receive credit.
13 Top Money-Making Apps for Kiwis [2023]
There are hundreds of making money apps out there, but some of them pay badly, offer a terrible user experience or just won't accept Kiwis!
I recommend the following apps as the best money making apps New Zealand has to offer, I really don't think you'll need any more than these top-earning apps to boost your income.
1. Opinion World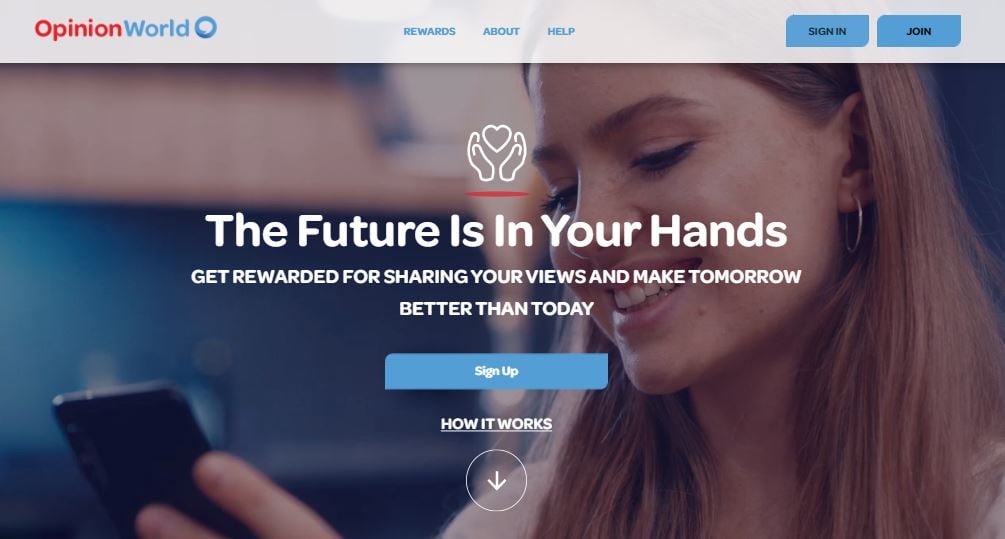 Opinion World are the top survey site in New Zealand for a good reason. They are reliable, have frequent surveys and pay on time in either cash via PayPal or gift vouchers.
Best of all, their app is easy to use. You can read the full Opinion World New Zealand review here
I highly recommend joining up to Opinion World if you want to do surveys on your phone.
Join Opinion World now >>
2. Nielsen Computer and Mobile Panel

In terms of free money apps, Nielsen Computer and Mobile panel takes the cake.
You quite literally need to do nothing other than install the app on your mobile and keep it installed in order to earn gift cards and selected items you choose from a catalogue.
Nielsen uses the data they collect in order to build knowledge around internet trends and usage behaviour.
You must be over 18 and the owner of the device you download the app on. You can also use this on your home computer and you'll earn more rewards for having more registered devices.
You must keep the app installed for a minimum of 14 days to earn rewards.
Join Nielsen Mobile Panel now >>
3. Toluna Influencers

If you're looking for survey apps to make money in New Zealand, you can't go past Toluna.
Their app has a neat layout and functions really well.
Toluna is one of the most unique apps where you can make money from surveys, polls, games and sweepstakes. I've always found the surveys pay best.
Just follow the instructions in your welcome email to download the app. Read the full Toluna NZ review here.
Join Toluna now >>
4. i-Say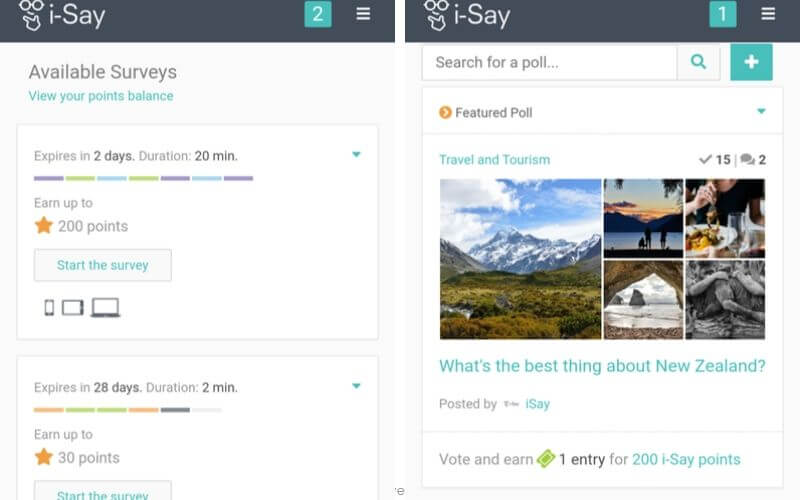 200 points are equivalent to $2.
i-Say by Ipsos is the newest survey option in town and they have a mobile-friendly site, with lots of surveys and polls.
Rewards are in the form of gift vouchers from JB Hifi or iTunes from $10 (1000 points) or Bunnings and Caltex for $50 (5000 points).
They don't pay cash but JB Hifi vouchers are great for Christmas so I consider them as good as cash.
Join i-Say now >>
5. Rewardia
Ok so Rewardia doesn't technically have an app but the website is mobile-optimised and it is quite simply the best option for those who like to play games online and want to earn some money for doing so.
Full disclosure – the earnings for playing games pay much lower than surveys but since redemption options start from 5000 points ($5) it's still worth it.
Redemptions include gift cards from $5 and cash paid via bank deposit from $50. Check out our full Rewardia review here.
Join Rewardia now >>
6. Sweatcoin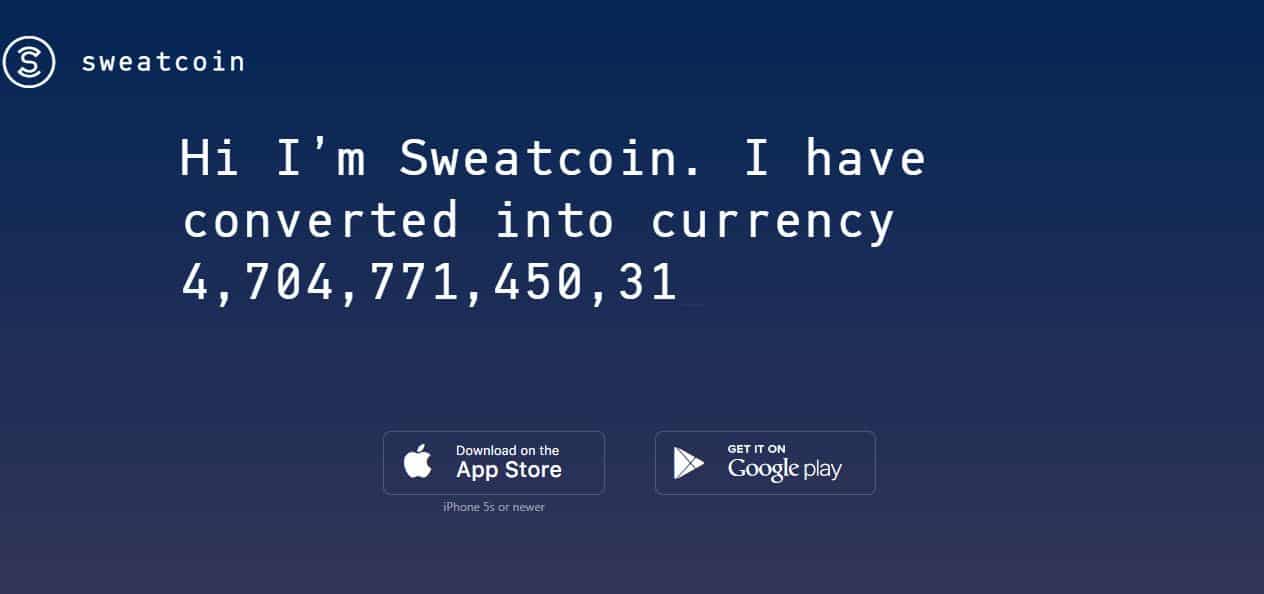 Sweatcoin pays you to walk. No, seriously.
You earn Sweatcoin by walking outside. Whether it's a stroll around the block or a power walk up the Mount, Sweatcoin can enrich you while you walk.
You'll need to keep your phone on you but the app will run in the background so nothing else is required.
It'll take you a while to earn the $1000 cash (in US dollars) prize, but you can redeem your Sweatcoins for prizes and vouchers before that stage. I'm shooting for the 1k – I'll let you know how I get on.
Join Sweatcoin now >>
7. Pureprofile
Pureprofile is a make money app which offers surveys for cash. As in real cash – deposited into your bank account.
Pureprofile is one of our favourite New Zealand survey sites because they pay cash, the surveys are frequent and the interface is delightfully clean. Read the full Pureprofile New Zealand review here.
Join Pureprofile now >>
8. Univox [$2 Signup bonus]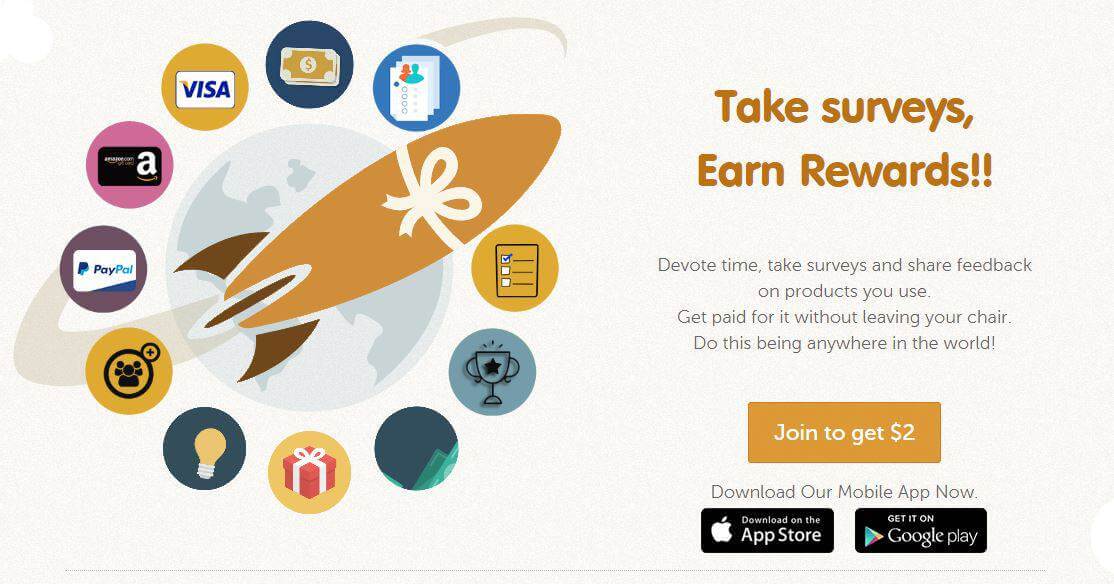 The Univox app lets you make money with your phone from taking surveys, as well as the $2 signup bonus. In my experience, the surveys are very frequent.
Join Univox now >>
9. Nielsen Homescan

Nielsen Homescan is a shop and scan app, requiring you to scan your groceries through their mobile app. You'll earn points which you can exchange for items from their catalogue.
All active panel members are also entered into a prize draw.
You can nominate to receive a handheld scanner, but the mobile app is a less cumbersome way of scanning.
Join Nielsen Homescan now >>
10. QuickThoughts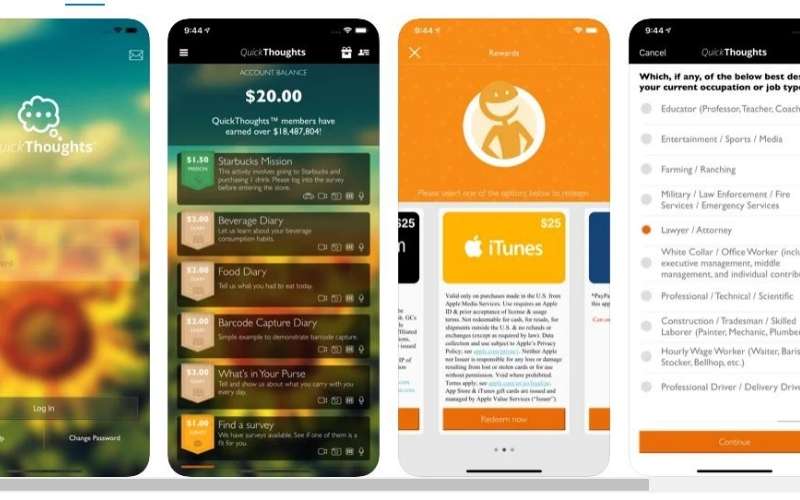 QuickThoughts is an app that offers rewards for taking polls, surveys and questionnaires.
They offer everything from money to prizes, from answering simple questions and completing tasks like mystery shopping, scanning barcodes and answering surveys as well as secret shopper polls or at-home diaries of unreleased products.
According to reviews, surveys are frequent.
Join QuickThoughts now >>
11. The Panel Station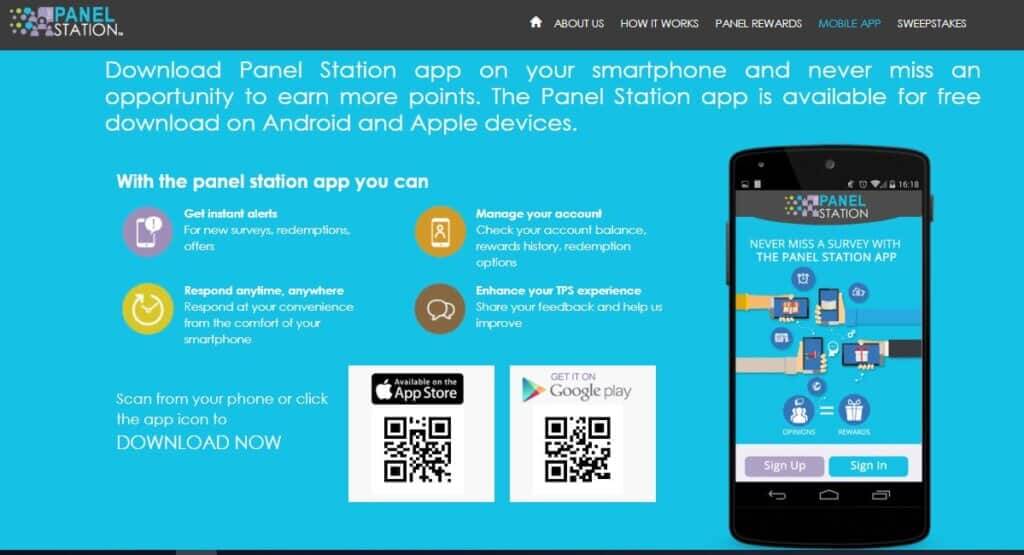 The Panel Station is another one of the top apps that make you money.
Their transparent rewards system means it's easy to figure out how much each survey is worth. Plus, when you screen out of a survey, you'll be entered into a quarterly draw to win cash which is a nice extra bonus.
Your earnings increase the longer you are a Panel Station member so it really is worth checking out The Panel Station as it's one of the best survey apps in New Zealand.
The Panel Station offers flexible redemption options including gift cards and cash via PayPal. Once you have accumulated 3000 points you can redeem.
Join The Panel Station now >>
12. Parkable

Parkable is an app that lets you make money by renting out your car space. You could earn up to $300/month per car space.
Demand is highest near city centres or special events venues. If you live near to where people pay for parking already, you could cash in.
Click here to read more about Parkable
13. Swagbucks [$5 Signup bonus]

Swagbucks has long been one of the best solutions for people wanting to know how to make money on your phone.
Swagbucks is a GPT (get paid to) site and one of the best-paid survey apps New Zealand has to offer.
It's definitely one of the best apps for making money and having fun at the same time.
You can earn points (SB) from activities such as watching videos, doing daily challenges, and more. There are surveys on offer, but I don't tend to qualify for them as they are mainly targeted at Americans or Australians.
That said, when I do earn on Swagbucks, I am able to redeem for Amazon gift cards which feed my Kindle habit, so it's worth the effort.
Join Swagbucks now >>
There you have it, the top apps for making money in New Zealand. I hope this list has been helpful in showing you that when it comes to apps that pay you, New Zealand now has loads of options to choose from.
Related guides