Are you interested in taking paid surveys in New Zealand?
Well, you've come to the right place. Getting paid to do surveys is an easy way to earn extra money from home (it's one of my top side hustles).
There are many options for online survey companies in New Zealand, but not all are equal, so this post aims to cut through the noise and show you the best surveys for money in New Zealand.
Top picks for 2023: I've had the most success with Opinion World, Octopus Group and Pureprofile. To increase your chances of success, I recommend joining all three.
15 Best Paid Online Survey Companies in New Zealand (2023)
The list below contains websites offering real surveys that pay you.
I'll keep this list updated as I spend more time completing surveys for money and let you know what I come up with.
1. Opinion World New Zealand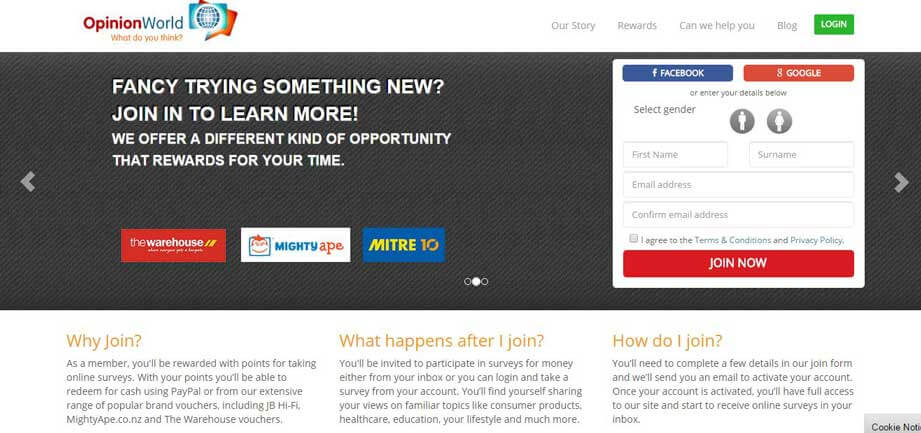 Rewards: PayPal and vouchers, including The Warehouse, JB Hi-Fi, and Fishpond.co.nz.
OpinionWorld is an online survey panel operated by Survey Sampling International(SSI).
SSI has been around for over 40 years, and 3,000 companies worldwide trust SSI to gain insights for growing their business.
OpinionWorld is the best option for those who want to take online surveys that pay cash.
Rewards include vouchers from The Warehouse, Mitre 10, Mighty Ape and cash payment via PayPal.
Best for: The PayPal option means you can access your rewards for everyday spending. That said, I'd be quite tempted by The Warehouse vouchers for back-to-school and their grocery items.
You can read our full review here.
2. Pureprofile

Rewards: You can either cash out with PayPal (once you've hit a minimum $20 balance) or receive a fuel discount with AA Smartfuel from $2.50.
Pureprofile is a worldwide company with a presence in New Zealand. I love how simple Pureprofile is.
Their website is mobile-friendly (so you can take surveys from anywhere) and looks great.
I spent 30 minutes going through my feed after setting up my profile and made $2.85 just from answering questions about myself which also builds a stronger profile and increases the likelihood of getting the right surveys. I think that's pretty good going!
They even give you a token amount ($0.10) if you screen out (survey speak for not qualifying) for a survey, which is a nice touch. The user dashboard is super easy to navigate and I know this is a site I will definitely return to.
With the recent removal of their income limit, you can now cash out earnings as frequently as you like as long as you have $20.00 in your account.
This improvement has pushed them up to second place in our New Zealand survey site rankings. Read the full review of Pureprofile here.
Best for: Cash via PayPal, unless you are a big petrol head and prefer fuel savings.
Click to join Pure Profile now
3. Octopus Group
Octopus Group is a fabulous survey site based in Australia, bringing its surveys to the New Zealand market and growing rapidly.
Our Aussie readers have loved them for years as they pay high rates and have interesting surveys.
Octopus went live with surveys in NZ earlier this year, and the feedback has been really positive.
Surveys tend to pay between $3 and $5, and you can cash out from $20 with either gift cards or by bank deposit to your NZ bank account.
Octopus have an exceptionally generous Tell a Friend offer where you can earn up to $25 per friend that joins. You get $2 for their first survey completed, then get a further $1 for each of the next 23 surveys they complete.
Best for: Cash in the bank!
Click to join Octopus Group now
Read more about Octopus here: Octopus Group Surveys New Zealand
4. Ipsos i-Say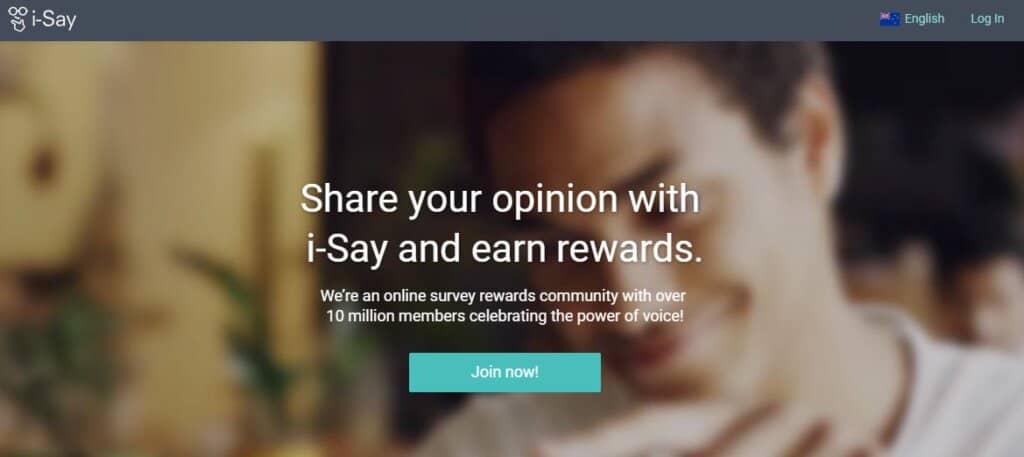 There's a new kid in town and I really like them.
Ipsos i-Say has been a major player in the market research world for a long time and they've just launched their online panel, i-Say, in New Zealand.
They only pay gift cards. Right now the rewards are limited to a $10 JB Hifi or iTunes voucher for 1000 points or a $50 Caltex StarCash or Bunnings gift card but I have emailed them about expanding the offering and they were really receptive to my suggestions.
The panel is super fun – especially the qualifying questions which had me laughing out loud. It's nice to see a survey panel using some humour as some of them can be quite formal.
5. Valued Opinions
Rewards: Vouchers from JB Hifi, Mighty Ape, Farmers, Rebel Sports, Hoyts and Subway.
Valued Opinions are a brand of Research Now, a top worldwide market research firm.
Each survey completed with Valued Opinions can earn up to $5 in reward credit (my highest so far was $4) which you can redeem for vouchers from JB Hifi, Mighty Ape, Farmers, Rebel Sports, Hoyts and Subway.
Nearly all of the experiences we came across praised Valued Opinions as the best survey site in New Zealand due to the frequency of survey offerings and the excellent redemption options.
Initially, I was slightly put off by how long it took to fill in the profile information (set aside at least 30 mins to set up your profile). It was time well spent, though, with frequent surveys being offered.
Valued Opinions is the best choice if you want to take surveys for gift vouchers, as they offer a wide range of redemption options and surveys are plentiful – I get at least 3 a week, but your results may vary.
Best for: Saving your credit and using it for Christmas or when the kids need clothes in the Farmers sales.
Click to join Valued Opinions now
Read our Valued Opinions Review here.
6. Toluna Influencers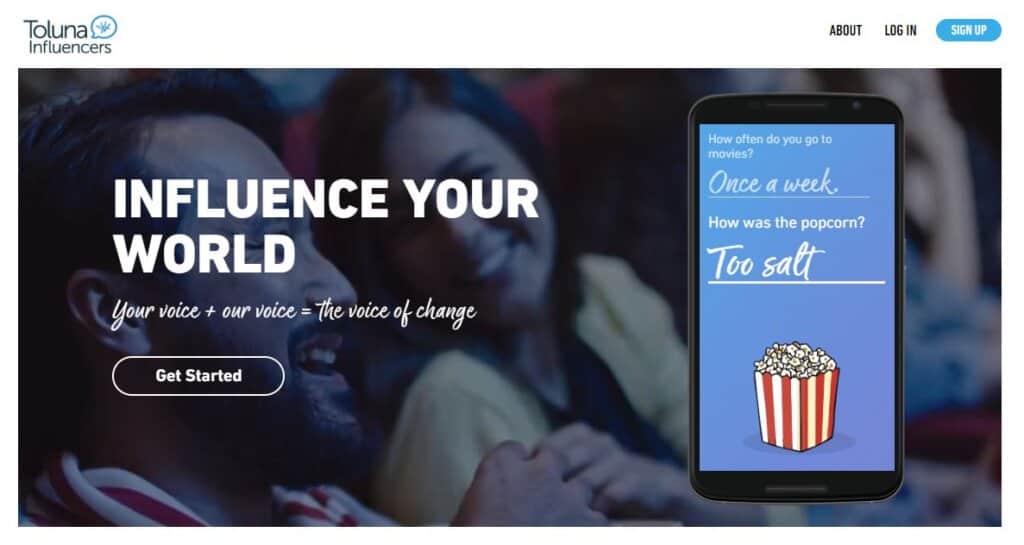 Rewards: There are loads of options for rewards with Toluna, including vouchers from almost any retailer you can think of and PayPal cash rewards starting at $10. Yes, that's right – Toluna allows you to cash out your rewards from $10.
Toluna Influencers is fast becoming one of my favourite New Zealand online survey sites.
Toluna is an online community where you can earn rewards by participating in surveys.
Toluna has a great community forum where you can express your thoughts through polls and opinions you create directly, and you can embed these polls on your own website or blog if you wish.
It's rare to find a survey company with a low payout threshold, so I'm delighted with this. No more forgetting about survey balances!
Rewards include cash payment via PayPal and vouchers for Bunnings, Mighty Ape, The Warehouse, Farmers, iTunes or a Flexi e-gift card to be used at Dominos.
Best for: I'm going to say the $10 PayPal payout worth 20,000 points is the best option. Gift cards valued at $30 for The Warehouse and Farmers starts at 60,000 points, so there is no incentive to continue accruing points after you have enough for the $10 PayPal payout.
Read our full Toluna review here.
7. Univox Community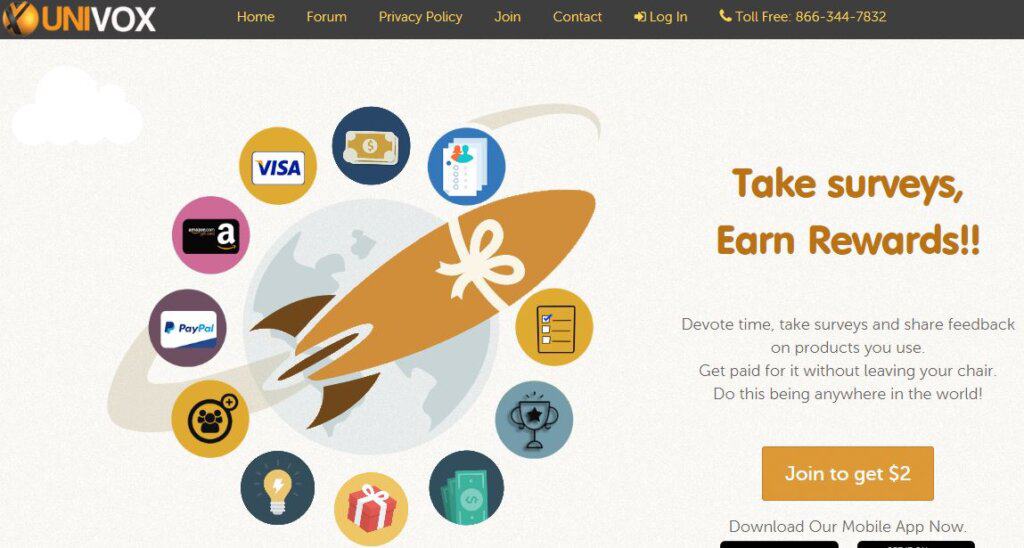 Rewards: PayPal and international vouchers, including Amazon.
Univox Community is an international online survey panel and mobile app that has opened up to the New Zealand public.
They give you the equivalent of 200 points when you complete your profile information, which is equivalent to $2.
They are really focusing on growing the community aspect of the site with lots of forum participation and also offer a $1 Refer a Friend bonus.
Best for: The PayPal option is always a solid choice. Hopefully they will expand their offering to more local gift cards soon.
8. Rewardia

Rewardia is a new addition to this list. Whilst technically a GPT (get paid to) site, the surveys pay well and are the best way to earn on Rewardia.
That said, if you're into playing games online, this could be an excellent way for you to monetise that passion.
Rewards include gift cards starting at $5 from Whitcoulls, Liquor Land, Farmers, JB Hi-fi, iTunes and more. You can also get paid straight into your NZ bank account but the threshold is higher at $50.
You can read our full Rewardia review here.
9. Nielsen Digital Voice [Earn $130 in 6 Months]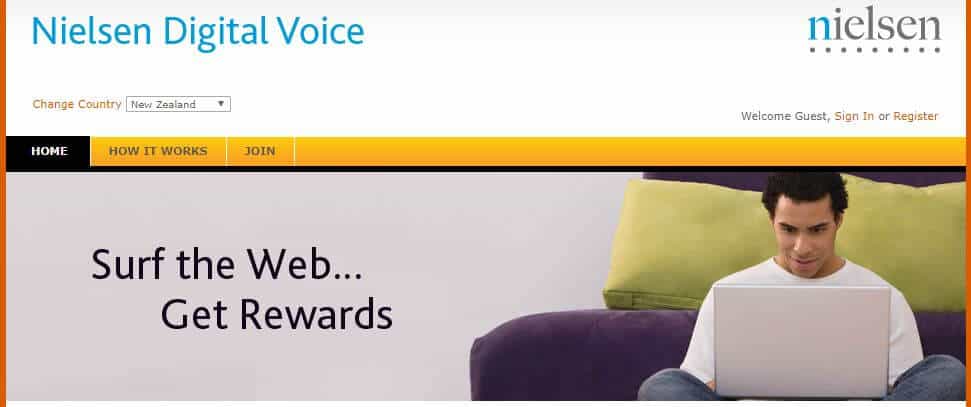 Nielsen Digital Voice is a simple way to share your opinions in New Zealand and be rewarded.
Nielsen Digital Voice differs from other online Kiwi survey options as you are required to install a piece of software.
You then continue to use the internet as you usually would, and the software tracks your internet usage. That information is used to identify trends in consumer behaviour.
You are rewarded by Nielsen for taking part, and they guarantee you will earn $130NZD worth of rewards if you keep the app installed for 6 months.
Click here to join Nielsen Digital Voice
10. Mobrog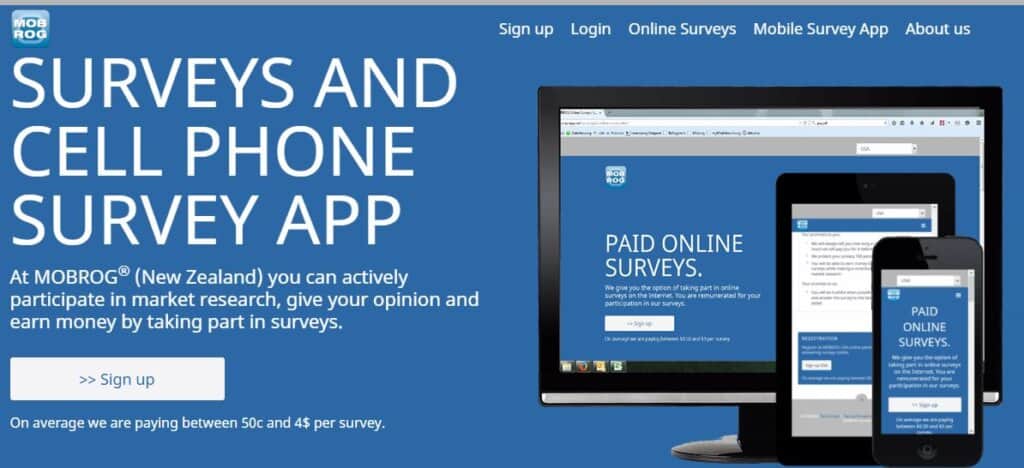 Rewards: Cash via Paypal or Skrill.
Mobrog is an online survey panel operated by Splendid Research in Germany.
Mobrog is a great option for those who want to take online surveys that pay cash as that's all they offer – and with a low threshold of $7.50, it's quite easy to earn extra money with this survey site.
Mobrog also has a Refer a Friend program where you'll earn $1.20 after your friend signs up and completes 3 surveys.
Best for: Cash is king, as they say.
11. Attapoll
AttaPoll is a mobile app that allows users to earn money by taking NZ surveys on their phones.
Users can take surveys from companies worldwide and get paid for their opinions and insights.
I find the survey availability to be quite frequent but not as well-paid as some of the other NZ surveys mentioned in this article.
AttaPoll has a user-friendly interface that makes it easy for users to engage with surveys and studies.
The platform focuses solely on surveys and does not offer any other methods of making money.
The redemption threshold is $3, meaning you can spend the money you earn doing surveys pretty much immediately!
Users can cash out their rewards to PayPal, Revolut or donate them to charity.
12. Perceptive Panel
Rewards: PayPal, Amazon or charity donations from $10, or gift vouchers from $20 for Hoyts, Paper Plus, Grabone, Mitre 10, Farmers, The Warehouse and more.
Perceptive Panel is fast becoming one of the most popular online survey panels in New Zealand. To make the most of Perceptive, ensure you fill out as much information as possible.
Having a complete profile ensures you get matched up with surveys more frequently, so you'll be able to earn cash and prizes.
Unlike many of the above survey sites, which are global brands with a New Zealand presence, Perceptive Panel is based in Auckland.
Note: redemptions are processed on the first five days of each month so you might have to wait until you receive your reward. Don't worry – it'll show up!
Perceptive also adds a small fee to redemption options. 5c on the $10 rewards and 10c on the $20 rewards.
Click to join Perceptive Panel now
13. Nielsen Homescan

Nielsen Homescan is a simple way to share your opinions in New Zealand and be rewarded.
Whilst not technically an online survey, I wanted to include this option as it's a very simple way to earn gift cards and prizes in New Zealand.
After you sign up, you will be sent a handheld scanner in the mail or you can use the mobile app. You will need to scan the barcode of each item you buy and enter the price into the scanner.
Once a week, the information you have entered is transmitted to Nielsen's head office. Your account is credited with points which you can use to redeem a range of items from a catalogue.
Best for: Since there is no direct cash payment, using Homescan points for gifts and special occasions is your best bet.
Click here to join Nielsen Homescan Panel
14. Respondent.io


Rewards: Cash with PayPal
This is a different kind of survey option that Kiwis can participate in. Respondent is actually an online focus group site, and they are actively looking for participants in all industries to participate in focus groups.
The best thing is – they pay cash via PayPal and in US dollars! Boom.
These take a little longer than regular online surveys but the pay is GOOD. I was offered a marketing panel paying $65USD for 45 minutes when I last logged on – which is amazing!
Unfortunately, the toddler had other plans, so I wasn't able to participate, but I'll be keeping a close eye on this site.
Sign-up is simple; they do require a PayPal address and all the usual info, but it's nothing too intensive.
Just make sure you're accurate about the description of your work, as that'll determine the invitations you get.
Click to join Respondent.io now
15. The Panel Station

The Panel Station completes our list of paid online surveys due to ease of use.
I especially like how easy it is to sign up with them, as some Kiwi survey companies require a lot of information before you can even look at the website.
Not so with The Panel Station.
Best for: The Panel Station offer cash with PayPal. You can swap 8000 points for $40 – nice!
Click to join The Panel Station now
How I compiled this list
In my research (I'm a bit of a survey junkie), I came across heaps of sites that had dodgy-looking home pages and I didn't even want to give them my email.
I have not included those sites (most weren't NZ-specific, anyway) on this list.
To ensure this article contained more than just my point of view, I've read loads of reviews and researched the website interface, the company behind the surveys and taken surveys.
I'm still an active member of all of the survey sites listed.
Tips for online survey success
Most survey companies require you to verify your email after you sign up with them, so keep an eye on your inbox for the verification link so you can start taking surveys for cash immediately.
You need a PayPal account for the survey companies who pay cash. You can apply for free here.
Be honest. Each time you apply for a survey, you'll answer qualifying questions. Most paid surveys NZ prefer to deal with real people so they can share honest opinions on products and services. Honesty is best here, in order to continue to receive offers, answer questions truthfully.
Remember, paid surveys aren't an income replacement; they are a way to make extra money, so while you won't get rich, the extra few bob is more than welcome.
A great additional source of income for those who want to work from home, NZ paid surveys are an excellent way to add cash flow to your household while building up a work-from-home business.
I hope this article has helped you understand your options if you want to get paid to do surveys online.
Completing paid surveys online can be an excellent way to earn money from home in New Zealand.
You can apply for surveys from the comfort of your couch, and there is real money at stake.
You won't get rich, but by completing surveys for money, NZ Mums and Dads can earn a few extra dollars to help with the groceries.
I'll continue to add to this list as I complete more paying surveys online.
Have you tried any paid surveys in New Zealand? Any tips for success you'd like to share?
Related guides: