Looking for a side hustle to make extra money that actually works in New Zealand?
I get it. Sometimes it doesn't matter how good you are at budgeting; if there isn't enough to go around, you can find yourself scrambling to pay the bills.
Beautiful Aotearoa is a great place to live, but that lifestyle comes with a price.
Lots of us have to work multiple jobs and side hustles to keep our heads above water – or just to save for a rainy day.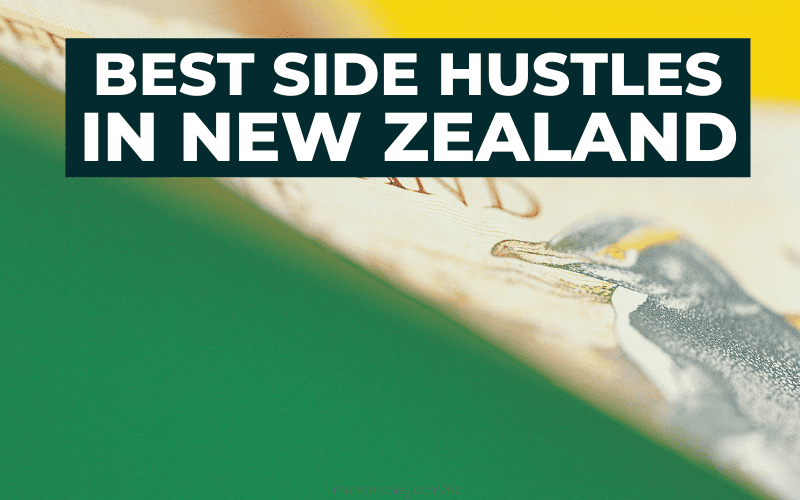 39 Side Hustles That Work for New Zealanders
This list of extra income ideas includes some quick money-making ideas for when you need cash now, as well as more long-term extra cash opportunities – things that have the potential to turn into a lucrative side hustle.
1. Take Surveys and Play Games With Toluna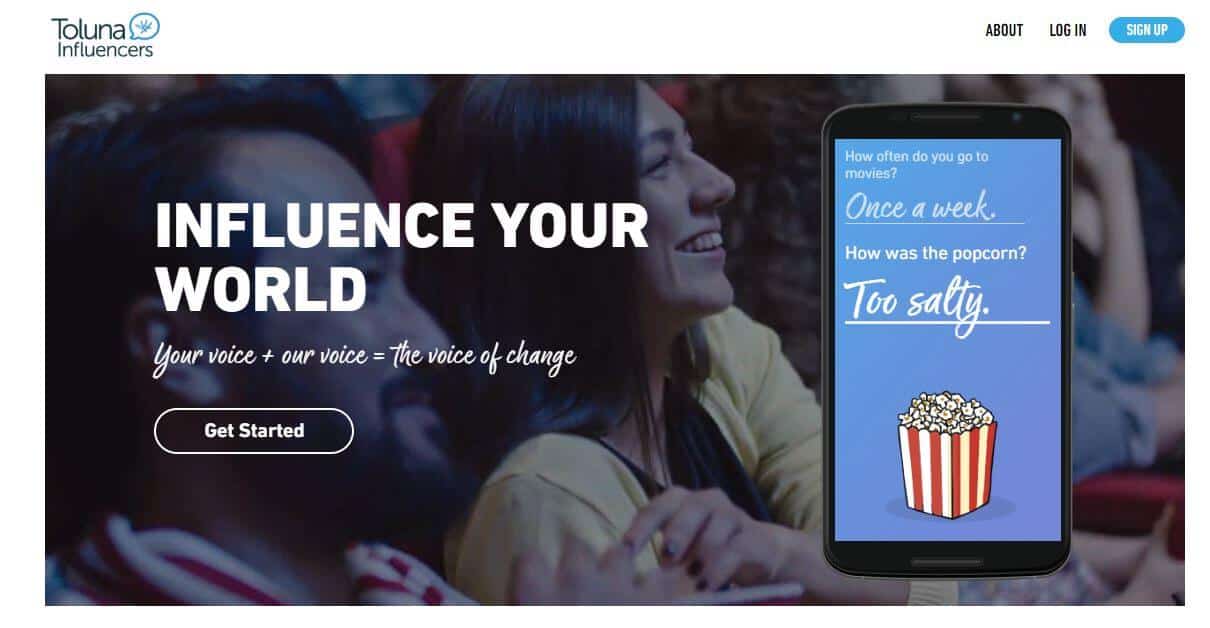 Toluna is a fun way to earn some extra cash for Kiwis. You can take polls and battles with other members on their platform.
Toluna also offers traditional online surveys (they are one of the best survey sites in New Zealand) as well as games.
They offer cash rewards via PayPal, or there are loads of vouchers you can choose from.
Other Survey Sites We Recommend
Pureprofile get paid for completing offers and surveys.
Opinion World frequent offers, fast paying survey site.
Octopus Surveys top paying survey site in Australia now in New Zealand.
2. Become a Mystery Shopper

Love shopping? Well, have I got the perfect extra income idea for you.
Mystery shoppers are paid to attend shops and restaurants and report back on their experience.
You are usually paid for your time and given vouchers to spend or reimbursed for any expenses you incur.
Right now, iShop for Ipsos is recruiting New Zealanders for various tasks.
By signing up as a mystery shopper with iShop for Ipsos, you can get paid to shop.
The assignments cover a wide range of industries including retail, restaurants, telecommunication, petrol stations, banking and finance, healthcare etc.
Most projects are run monthly, so shoppers can be sure they will always have some jobs waiting for them.
Incentives are project-based and paid "by survey". Online and phone call tasks are NZD5-15 per task, and physical visits start from NZD10 and can be up to NZD50.
Shoppers are paid for their successful surveys every 14 days, and payments are processed directly to your bank accounts making this one of the best side hustles for those who love to shop.
Click here to join iShop for Ipsos>>.
3. Register for Market Research/Focus Groups

Another lucrative way to make extra money NZ-wide is by participating in focus groups and market research panels.
These are often held in person and I've attended sessions in the CBD and all over the place.
My best-ever gig was testing chocolate for Lindt (seriously!), and that was actually held in my home.
Check out this guide to market research companies and focus groups in New Zealand.
4. Casual Catering or Waitstaff Work
If you're in a big city or a regional area that hosts lots of events, you might be able to find casual jobs for catering assistants and waiters.
This kind of work is usually at weekends and evenings, which makes it the perfect side hustle NZ-wide.
It helps if you can pour a pint or hold three plates, but those skills are definitely learnable.
Agencies like Bravo Hospitality (Auckland) and Function Staff (Nationwide) are good places to start.
5. Juice Those Limes
Are Lime scooters in your city yet? They are super popular here in Christchurch, and there's a way for you to capitalise on that popularity.
Electric scooters need electricity (duh!), and Lime will pay you to charge (or 'juice' as they like to call it) their scooters and return them to a designated area ready for use.
There's a bit involved, and like any money-making opportunity, you need to weigh up whether the effort is worth your time. This article is a great read if you're interested.
6. Become a Virtual Assistant
Abbey Ashley from The Virtual Savvy runs a 60-minute FREE training webinar on how to become a booked-out virtual assistant. The training includes ideas on which services to offer, finding customers, scaling your business and more.
Working from home as a virtual assistant is a great side hustle for administrators, personal assistants and executive assistants.
All you need is your existing skill base, a computer and an internet connection.
I actually worked in this manner after my son was born, and the gig continued after we left New Zealand to go travelling.
I was earning Australian dollars (the job was with my former Australian employer) and spending Mexican pesos, which gave me a taste of geographic arbitrage – which basically meant that my family and I could live like kings on the 20 hours a week of remote work I was putting in.
If you're interested in becoming a VA, check out this post on becoming a Virtual Assistant.
7. Mow Your Neighbour's Lawns
If you've got a lawnmower and some time on your hands, you could make extra money mowing lawns.
Print up some flyers and do a letterbox drop in your neighbourhood.
Unless you have a ute/large car, it's best to stick to places you can walk your mower to.
Most residents will be happy for you to leave the grass clippings in their green waste bin, but check this with them as disposing of grass clippings will require you to have transport and get it to the dump.

Did you know you can earn around $10 a month doing absolutely nothing?
Yes, that's right. Nielsen Digital Voice will pay you to install a small, non-intrusive piece of software on your computer which tracks your browsing history.
Learn more about Nielsen Digital Voice here
9. Start a Blog
When we moved back to New Zealand, and I was looking for ways to make extra money from home, side hustle opportunities were few and far between.
I already had a blog that I'd started in Australia, but it was far from making money, so I invested in courses to learn how to make money blogging.
I now make between $11,000 and $17,000 NZD monthly from my blogs ( I have multiple sites).
Blogging is a long-game extra income idea, but it's one I highly recommend. Here is a guide I wrote about how to make money blogging for beginners.
10. Data Entry
Data entry work consists of repetitive typing and requires extreme accuracy.
It's also frequently available at night and weekends.
Data entry jobs can be found in many industries. You'll find loads of opportunities on Seek.
11. Work Retail in the Weekends

Retail work is the ideal way to make extra money and a perfect side job.
I worked at a huge retailer every weekend, and a couple of late nights after my corporate gig was finished for the day when I was hustling hard to save cash and pay back my credit card.
It was hard, sure, but the extra money was sweet and working my butt off meant I wasn't out partying or shopping.
Weekend retail jobs are also a great way to meet fellow side hustlers.
I made loads of new friends who were also working full-time day jobs and using their side income to pay for things like travel or getting out of debt.
12. Teach English Online
Teaching English online is a relatively new field for Kiwis.
That's because many countries prefer American English speakers, but a company called Dada are open to hiring Kiwis with the right experience and qualifications.
You can earn up to $21USD per 40-minute lesson and work as much as suits you.
During the week, lessons are mainly at night, so you'll need to be a night owl for this side hustle.
On the weekend, lessons run all day long, so you can really make a lot of extra cash on top of your Monday-Friday gig if you hustle hard.
You must be a native English speaker with a bachelor's degree in any field and some teaching experience.
Read Nicola's post on how she makes money teaching online, including her best options for Kiwis.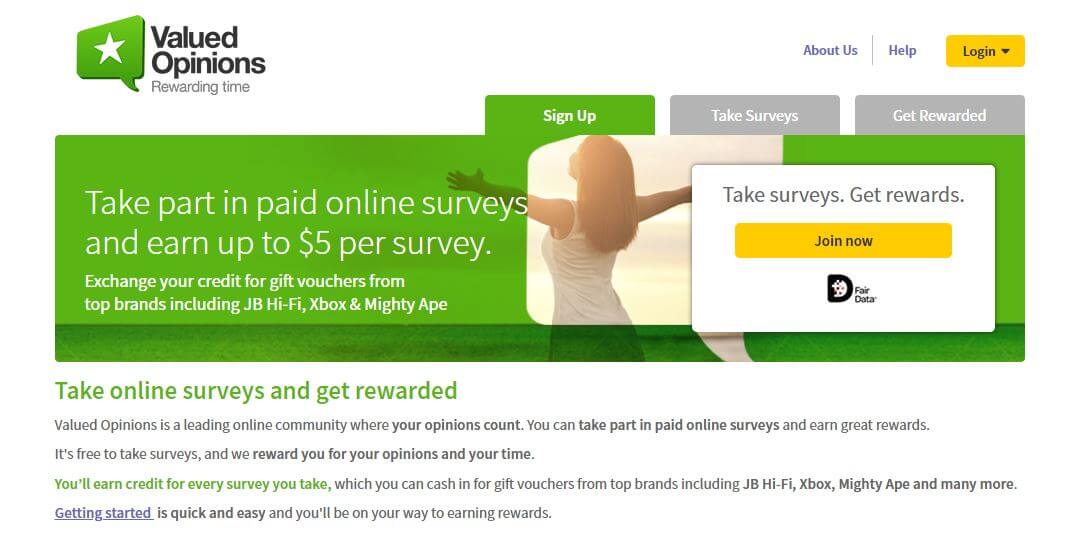 Valued Opinions is one of my favourite Kiwi survey sites. They only pay in gift cards, but they are reliable, and the surveys are regular.
I can easily earn a $20 voucher each month without much effort and could definitely make more if I put more time into it.
Click here to join Valued Opinions
14. Rent Out Your Car Space
If you have a spare driveway/garage/carport or similar parking space, you can rent it out on Parkable to earn extra money.
This Auckland-based company are helping Kiwis make money from their unused parking spots and it can be pretty lucrative.
Check out this post on how to make money from your carspace with Parkable>>
15. Become a Trademe Seller
Selling things on Trademe or Facebook Marketplace can be a legitimate source of extra income and a great way to earn money from home. Start with the things you have around the house.
Check what similar items sell for, take decent photographs (blurry pics steal from your bottom line, don't publish them), write an enticing but accurate description and get selling.
For tips from an expert seller, check out this article David wrote for Mumsmoney on his best tips for selling on Trademe.
As time goes by and your experience grows, you'll get to know what sells best and which items you like working with.
16. Write Articles for Blogs and Businesses
Information is the currency of the future. This blog right here makes money from articles just like the one you're reading now.
If you can write and have some expertise or personal experience in a topic, working as a freelance writer is a great way to earn extra cash from home (or anywhere else you'd rather be than the office).
Writing articles for businesses was my second online side hustle (after working as a virtual assistant).
I signed up as a freelancer on Upwork, and applied for writing gigs in my wheelhouse – mainly frugality, saving money and real estate investing.
At one point, I was writing for a real estate agent in New Jersey, a huge website in Australia and a coupon site in the USA – all from the comfort of my Christchurch kitchen table – you've got to love the internet!
Earnings varied, but with this blog as a portfolio, I charged a minimum of $40USD (currently $68NZD) for 500 words and often earned much more than this.
We have an in-depth guide to becoming a freelance writer here.
17. Sell Pictures of Your Feet
You might be surprised to learn there is a huge demand for pictures of feet out there in the online world. And not just pretty feet.
Even twisted and gnarled feet pics can command some income, although a nice, clean-looking foot would be your best bet if you were looking to make ongoing income.
Not all the opportunities to sell pictures of your feet are legitimate, so we dug in and did some research to find out how to get started selling feet pics.
You can read our article: How to Sell Feet Pics Online For Extra Income (Seriously!!)
18. Rent Out Your Car
If you're anything like me, your car sits unused in your driveway for long periods of time (now more so as I bike to school with the kids and work from home).
If you can part with your car for some time, you can earn extra money by renting it out.
With Yourdrive, you are paid 60% of the total rental fee when you rent out your car.
A quick play on their calculator shows that a car valued at $5,000, rented for 20 days a month, can make around $225 a month.
That's not huge, but if you need extra cash, it's better than a car sitting in a driveway all day.
Insurance and all other related costs are covered by Yourdrive. Check them out here
19. Sell Downloads via Etsy
If you've considered selling online but are concerned about buying and storing lots of stock, selling digital downloads on Etsy can be a neat compromise.
Selling digital downloads may sound complex, but it's a great way to make passive income.
Set up a shop on Etsy. Once it's all there, all you have to do is keep an eye on it. It's another example of the kind of work that you can do from anywhere.
Once you've created some digital downloads, you can literally make money while doing very little.
And if you think you need to be a great artist, you might be wrong there.
Think about how popular text images are now – such as motivational quotes.
You don't need fancy software to get started, and you could produce printables of anything from business cards or leaflets to planners – and, of course, artworks.
You can learn about making money by selling digital downloads on Etsy in this article from Trina – a UK mum who makes a considerable passive income from Etsy.
Related: 30 Things to Sell on Etsy To Make Money [2024 Guide]
20. Sign Up for Money Making Apps
In the smartphone age, making money using your mobile phone is simple.
All you have to do is sign up for some money-making apps, and off you go.
You might be asked to complete surveys, perform online searches, scan products or even make short videos of yourself talking about a product.
We recommend getting started with the following: 13 of the Best Money Making Apps in New Zealand
21. Work as a Social Media Manager
If you think everyone finds social media as easy to use as you do, think again.
Many companies have no clue when it comes to posting on Instagram, setting up a Facebook page or why they should send a Tweet. Let alone how to use TikTok or why they should have a YouTube channel.
Large and small businesses always look for people who know their way around social media.
If that describes you – and you can learn how to use paid advertising on each channel – then you have a marketable skill that could make you some serious cash.
If your skills need a little polishing before you start, there are affordable ways to train online.
This Udemy course, for instance, requires very little investment and can teach you all about setting up as a social media manager.
22. Work as an Online Tutor
Like many industries, private tutoring has also primarily moved online.
So if you have specialist knowledge that you can pass on to others, online tutoring might be one of the best extra work ideas for you.
Whether you're a qualified primary school teacher, a full-time student or have a degree, you can make good money online by passing your knowledge on to younger people.
Knowledge of the appropriate curriculum or syllabus will be required, but it isn't too difficult to grasp once you've read the right books.
To get started, you can create a profile on platforms such as Cluey Learning or Superprof, which cater to the New Zealand market.
23. Rent Out the Spare Room on Airbnb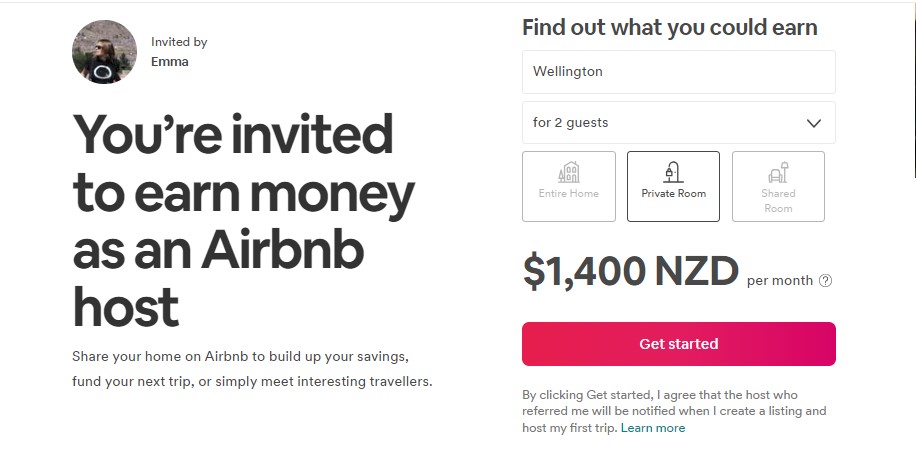 If you have room to spare, renting it out via Airbnb can be a lucrative money-spinner.
It doesn't have to be anything fancy, either. Airbnb themselves say it's all about managing expectations. In other words, tell it like it is.
Rooms with a private en-suite bathroom and kitchen facilities will generally attract higher rates. How much you can charge also depends on where you live.
Anywhere that's popular with tourists is a really good bet, so if you live in a central part of a city, near the coast or in picturesque countryside, then you're definitely onto a winner.
Whether it's a bedroom, a sleepout in the garden or an unused granny flat, letting out your spare room on Airbnb can provide a serious income.
Unlike having a boarder or flatmate, you can also choose when to rent the room. You can find out more about listing your property on Airbnb here.
24. Rent a Room in Your Home Long-term
Renting out a room in your home long-term can help offset the cost of your mortgage or rent, utilities, and other expenses.
Additionally, renting out a room can provide companionship and social interaction.
However, it's essential to consider the potential drawbacks, such as the need to share your space with a stranger, potential conflicts with your tenant, and the added responsibility of being a landlord.
You can either take on someone as a flatmate or boarder.
A flatmate shares a house or apartment with others and contributes to the rent, utilities, and chores, but is not named on the tenancy agreement.
On the other hand, a boarder lives in a home with the owner and is fed by the owner. The critical difference is that a boarder is provided meals while a flatmate is not.
Here are some excellent links to learn more about having a boarder and getting a flatmate.
25. Offer Airbnb Experiences
Not having a spare room does not have to mean you cannot make money via Airbnb.
You can offer Airbnb Experiences instead.
Whether it's offering cookery or fitness classes, teaching people to play a musical instrument or hosting an animal encounter or adventure, there are all sorts of creative ways to give people a one-off experience while making money at the same time.
26. Transcribe Audio Files with Rev.com
A transcriber is a skilled typist who converts audio or video recordings into text format.
They create accurate and detailed transcripts of various types of recordings, such as interviews, podcasts, lectures, and focus groups.
Once completed, the transcriber uploads the transcript to the Rev.com platform for review and quality assurance.
They get paid every Monday for all audio files transcribed and completed the prior week.
So you'll need a computer, internet connection, headphones and a decent typing speed – but that's it.
27. Deliver Food
If you're over 18, you could make cash by delivering takeaway food. You will require a reasonably recent smartphone and the use of a bike, scooter or car.
Delivereasy, DoorDash, Menulog and UberEats are always looking for new delivery staff as they expand their operations.
They offer their people constant support via an app and accident insurance.
If getting out and about and exploring the town or city appeals to you, why not try delivering fresh, hot food in your spare time?
28. Online Course
The passive income dream is making money by creating and selling your own course. This can be done through a platform like Udemy or Teachable.
First, you'll need to create your course content. This can include videos, PDFs, and other materials.
Once you have your course content ready, you can create your sales page and start marketing your course.
Using an online course provider like Udemy is a smart long-term move. This means you will provide the course content, and they will handle all the marketing and sales.
This can be a great option if you don't want to deal with creating your own sales page or marketing your course.
If you're happy to create a sales page and be in charge of your marketing, Teachable can host your course and handle the payment and distribution side.
The Teachable blog is a wealth of information.
29. Upskill for Your Day Job
You might not even need a side hustle if you can get a promotion at your day job.
Upskilling for your day job helps you stay ahead of the competition and gain greater job security. Plus, it makes you more valuable to prospective employers.
Have you ever heard the saying "an investment in knowledge pays the best dividends"? That's because, for most of us, our most valuable asset is our ability to generate an income.
Ask your employer to recommend professional development courses for your role.
Look into professional qualifications with universities and polytechs.
Research the certificates that are in demand in your field to get ahead.
These qualifications don't have to be costly either – scholarships and grants are available, often from within your organisation.
30. Work as a mother's helper
There are many ways to make money as a mother's helper in New Zealand.
A mother's helper is someone who helps a mother with her daily tasks. This might also be called a housekeeper, au pair, nanny or something completely different.
This could include running errands, grocery shopping, providing childcare, preparing family meals – basically, everything a parent does – you would help with.
You'll often work during typical after-school hours – between 3 pm and 6 pm – giving you lots of flexibility to study or work other jobs in your free time.
Expect to earn around $30 + per hour.
31. Advertise Your Services via Airtasker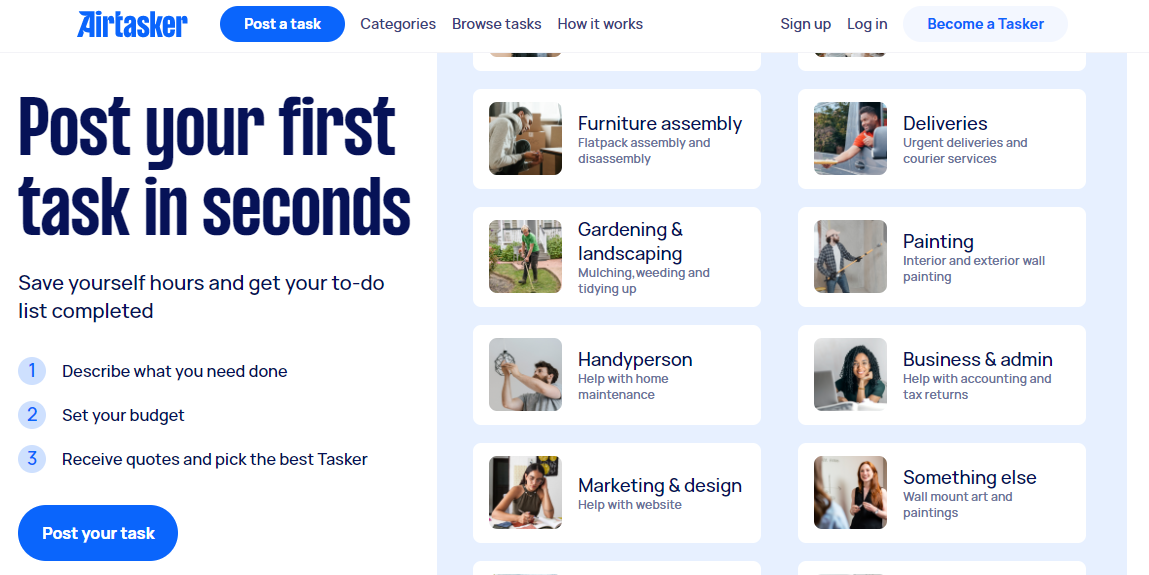 Airtasker is an online marketplace connecting people who need tasks done with people willing to do them.
You can find various jobs on Airtasker, from furniture assembly and data entry to gardening and cleaning.
Getting started with Airtasker is easy. All you have to do is create an account, set up your profile, and browse the available tasks.
You can filter the tasks by location, budget, and time frame to find something that suits your needs.
Once you've found a task that interests you, simply submit your offer and wait for the customer to accept it.
Airtasker offers a secure payment system called Airtasker Pay so both parties can feel confident about their transactions.
When you complete a task and request payment, the customer will release the payment directly into your nominated bank account.
32. Sign Up for Product Testing
Product testing is an exciting side hustle.
Companies and market research firms will offer customers samples of a product or service, in exchange for their opinion. Product testers are often paid for in product or gift cards.
As a product tester, you'll be asked to try the product and provide feedback on its performance and if you would buy it.
This will help the company form their marketing direction for the product.
In some cases, the feedback from product testers may even determine whether or not the product gets released!
You can read more in our guide to product testing in New Zealand.
33. Publish on KDP
Are you an aspiring author looking to make money from your writing?
Kindle Direct Publishing (KDP) is a platform that allows authors to self-publish their books and sell them to readers around the world.
There are a number of different ways to make money on KDP. Here is just a couple:
1. Sell your book as an eBook. When you list your book on KDP, you can choose to sell it as an eBook or as a print book.
If you want to maximise your earnings, then selling your book as an eBook is generally the best option.
This is because eBooks have no production costs and can be sold at lower prices than print books.
Furthermore, readers are increasingly choosing to purchase eBooks over print books, so you'll likely reach a larger audience by selling your book as an eBook.
2. Enrol your book in Kindle Unlimited. Kindle Unlimited is a program that allows readers to access thousands of eBooks for a flat monthly fee.
When you enrol your book in Kindle Unlimited, it will be available for readers to borrow and read for free.
While you won't earn any money from readers who borrow your book through Kindle Unlimited, you will earn a percentage of the total money that Amazon pays to authors each month.
This can be a significant amount of money if your book is popular among Kindle Unlimited readers.
An excellent place to find out more is the Reddit thread /r/selfpublish
34. Shop Smarter
We all know that saving money means we don't need to make as much, so it's helpful to think of your non-essential purchases regarding the time required to purchase.
Are those new jeans really worth four hours of work?
Could you find a vintage pair in an op shop for a fraction of the price?
Save money and the environment? Win-win!
If you can't buy second-hand, can you get a price match? Stores like Mitre 10, The Warehouse and Briscoes all offer price-matching policies.
Using cashback sites like Kiwiwallet or Cashrewards for online purchases can nab you a decent discount.
I also find it helpful to plan my shopping expeditions before I leave the house.
I write a list of what I need then mentally plan out my route before I get in the car. This is the best way to ensure I spend as little as possible.
Impulse purchases almost always end up more expensive (and the inevitable post-purchase online price comparison will reveal a saving I missed – every time).
35. Collecting and Recycling Scrap Metal
Recycling metal is more economical than mining new metal, so every time you recycle scrap metal, you are doing Planet Earth a favour.
It can be quite lucrative too.
The best way to make scrap metal recycling worthwhile is to accumulate a pile of metal before going to the scrap yard.
Putting a notice on community Facebook groups and offering to take scrap metal away for free is a great way to grow your stash. You'll no doubt have many takers.
You'll get the most for copper, brass, nickel, tin and aluminium, but scrap steel and rebar are still worth a few bob.
36. Dog Walking
Dog walking is a smart way to earn money while doing something you love and keeping fit.
To become a professional dog walker in New Zealand, you don't need to complete formal training.
However, it is recommended that you undertake a dog handling course to provide you with the necessary skills and knowledge to be able to safely and effectively handle dogs of all sizes and breeds.
Having some experience working with animals can also be beneficial when applying for jobs.
Once you have the necessary qualifications and experience, the best way to find work as a dog walker is by joining an online platform such as Pawshake, which connects pet owners with experienced pet sitters and dog walkers.
37. Cleaning
Cleaning is a great side hustle because it provides flexible working hours.
It also pays well – often much better than minimum wage – and can be done part-time or full-time.
Additionally, cleaning services are in high demand due to busy lifestyles, meaning there is plenty of potential for growth if you want to expand your client base.
Check out local Facebook groups to see what's needed in your area, or run a job search through Seek or Trademe if you prefer regular hours.
38. Stocktaking
Businesses often hire extra staff to help with stocktake because it is time-consuming and labour-intensive.
Accurate stocktake requires counting, weighing, or measuring every item in the store or warehouse.
Having additional staff can also make the process faster, allowing businesses to complete their stock take more quickly and accurately.
This is good news for New Zealand side hustlers because casual stock-taking jobs tend to be at the weekends or evenings, and once you're in with a good agency, you can accept as much work as you like.
Check out RGIS for New Zealand-wide stocktaking work. Expect to earn around minimum wage.
39. Create a Niche Website
Niche websites focus on very specific topics or interests.
They allow website owners to target a small but dedicated audience passionate about that niche topic.
Some examples include websites about photography, travel to a particular region, cooking recipes or parenting.
By focusing on a niche topic, the website can become a leading authority and resource for that group of interested users.
This helps the website rank well in search engines for relevant keyword searches and build a loyal following of regular visitors.
To make money from a niche website, the owner provides valuable information and resources to users while also including advertising or affiliate marketing links.
As the website attracts more visitors who are engaged with the topic, the advertising space becomes more valuable.
Website owners can also include paid products or services related to the niche.
Building a niche website takes time to generate an audience, but it allows passive income potential by meeting the needs of a dedicated group of users in a particular niche market or interest area.
Related guide: What Are Niche Websites? Examples And Ideas
I hope this list will help you find the best way to add some extra money to your budget.
What are your favourite ways to boost your budget? Share in the comments.
Related guides: 19 Lucrative Ways to Make Money Online in New Zealand