From dog walking and babysitting to freelance writing and social media scheduling, these are the best online jobs for teens (and how much they pay).
Maybe you want some extra cash for some new games or you are saving up for a new car or even your first house!
Whatever the reason, there are tons of jobs out there that are perfect for teens.
They are flexible and fit in your schedule with school.
Plus, some of them you can even keep doing as a side hustle when you go to university or start your career.
Gone are the days of walking from store to store to fill out job applications by hand (uphill in the snow both ways!).
Now, you can find many jobs with your computer and smartphone.
This guide will tell you everything you need to know about work-from-home jobs for teens.
You'll learn safety tips, age requirements, and how to find the best teen online jobs.
How To Find Jobs For Teenagers Online
There are lots of job boards out there that hire freelance workers.
The most effective way to find jobs for teens online is to do what has worked for years, even before the internet – network.
Ask your parents to talk to their friends about jobs they need help with.
This can be things like dog walking, babysitting, or online work like data entry and social media scheduling.
Further below, I'll share the essential tips you need to do before you apply for online work for teens.
My biggest tip is to work with your parents as you go through this process.
There are many scams out there, so you must be careful. Only sign up with legit sites and be safe as you work online.
Age Requirements For Jobs
Another thing you will need to pay close attention to as you apply for jobs is the age requirement.
I'll share the age requirements in my job suggestions below. Many jobs require you to be at least 16; some prefer you to be 18.
The easiest way to earn money online is as a subcontractor instead of an employee with a business.
This means that you pay your own tax directly.
How To Get A Job At 14
Since the government restricts the number of hours teens under the age of 16 can work, lots of places don't want to hire people that young.
The best way to get a job at 14 is with one of the following online teen jobs.
I'll list out the minimum age requirements; some of them are perfect for young kids.
There are online jobs for 14-year-olds, you just have to know where to look.
Best Online Jobs For Teens
This is how to make money as a teenager online! Browse this list and pick out the ones that sound the most fun for you!
Each type of job below lists the minimum age requirements and how to starting earning money from it.
Then, keep reading – I have a list of tips that you need to do before you start applying for jobs.
1. Complete Online Surveys

One of the easiest jobs online for teens is completing online surveys.
There are no set hours or minimum amount you have to do to get paid.
You set your own hours because you get paid for each survey.
You can earn money while riding the bus or when you are bored at home.
Each survey site has different age requirements, so always check that before you sign up.
Some surveys for teens allow you to earn cash sent to your PayPal or earn free gift cards or prepaid Visa cards.
Some of the ones below are just surveys. You answer questions and then get points that you turn in for cash or gift cards.
Others let you earn points by searching the internet through their links or watching videos they send you.
I gotta be honest, this doesn't pay much. It's fun and really easy to do, but they can't take the place of a regular job.
Lots of people will sign up for multiple survey sites as a way to increase their chances of earning more money.
Here are the most popular paid surveys for teens that are legit and pay the best.
Swagbucks – Minimum age is 13 years old. Earn cash or gift cards in exchange for taking surveys, watching videos, or shopping online through their links.
Ipsos I-Say – Minimum age is 18. This is another market research firm that is one of the best-paid survey sites online. While they don't send them as often as online surveys, there is a chance for reviewing products that you get to keep too.
Toluna – Minimum age is 16 years old. This site is set up for teens to get paid when they give feedback about different topics. Their answers are then shared with brands and might influence their advertising or product strategies. After you earn at least 30,000 points, you can exchange them for online gift cards.
For more information about online surveys, check out our list of surveys in New Zealand.
2. Freelance Writing
Another one of the best jobs from home for teens is freelance writing.
This can include anything from short product review articles to longer blog posts that you ghostwrite for bloggers or companies.
One really big benefit of freelance writing is that it will prepare you for further education and even full-time jobs.
Keep track of things you write in an online portfolio, and you'll be more competitive when you are looking for a full-time job someday.
Most job boards have minimum age requirements for users.
If you network with people you know, you can write articles for their websites without going through these job boards.
These are the most popular sites that hire freelancers and are the best remote jobs for teens who like to write.
Upwork – Must be 18. Upwork connects businesses with freelancers in just about any field imaginable, including freelance writing. This is a job board, so you will get paid directly from the company when you get a job with them. You have to be 18 years old to get work on Upwork because it involves signing a legally binding contract to work with companies. Plus, they charge a fee to use their services.
Fiverr – Minimum age is 13 years old. Use this site to sell freelance writing services (or any other service) for as little as $5. Jobs on this site are listed as "gigs" and the starting price can be higher than $5. You can do all sorts of things from graphic design to coding.
Freelancer.com – Minimum age is 16 years old. This site works a lot like Upwork. You can browse available jobs and earn money via PayPal.
If you are at least 18 years old, check out this beginner's guide to Upwork.
It has some fabulous tips that will help you snag the jobs you want!
3. Freelance Graphic Design
If writing isn't your thing, you can also do freelance graphic design.
The kinds of things you'd do include professional photo editing, creating logos, or creating social media graphics.
Freelance jobs for teens are often short projects you can fit into your schedule.
Avoid any jobs that have strict deadlines when you are still in school.
There are lots of software and apps out there that make graphic design.
Look for Canva or anything from Adobe Creative Suite.
In fact, the better you become at using them, the more hireable you are to employers later on.
The sites listed in the freelance writing section also hire freelance graphic designers.
Sign up with them and start looking for companies that are hiring freelance graphic designers.
4. Freelance Coding/Web Design
Another way teenagers make money online is with freelance coding and web design.
Learn how to design and customise WordPress blogs for influencers and you can earn quite a bit of money.
This is an excellent way to grow enhance skills that you will use in college and the job market as an adult!
As a career, coding and web engineering is a growing and lucrative career.
Start on small freelance projects. You'll find tons of them on the freelance sites listed in the freelance writing section.
Fiverr and Upwork are the most popular sites for freelance web design projects.
One thing you have to know about web design or coding: this is not a good job for a teen who has lots of other things going on in their lives.
This is a job that has the potential to require a lot of time and focus since website owners have strict deadlines.
5. Social Media Assistant
If you already know quite a bit about social media, then a fun way to earn money online as a teenager is social media scheduling.
There is no minimum age requirement for these jobs as a whole, it varies from person to person and business to business.
Here's what it is: you would take the photos and social media captions and put them into the social media scheduling apps.
This job varies a lot. You could be expected to do any or all of the following things:
Create social media posts
Track social media post reach
Report on reach
Put social media graphics and captions into scheduling apps (like CoSchedule or Tailwind)
Take photos for social media posts
Responding to comments
Another name for this is a virtual assistant. Pay is usually per hour.
Lots of these types of jobs are listed on job boards like Fiverr, Upwork, and Freelancer.
If you do well as a teenager, this could open up a whole world of jobs in public relations and advertising.
The really neat thing about this online job for teens is the experience you will gain on the job.
The skills you apply as a social media assistant will allow you to grow into a social media manager role, perhaps in your own business.
6. Design T-Shirts
Another one of the best at home jobs for teens is designing and selling your artwork on products like t-shirts and coffee mugs.
The minimum age for most sites is 13 years old. It does require the supervision of a parent.
The two most popular sites for this are CafePress and Redbubble.
You will earn anywhere from 5-10% of the sale price for each item.
Use the "design your own" section on these websites and then create your designs and list them for sale!
If you know an influencer or musician, you can even offer to design their merch for them.
Here are a few different types of products you can sell from these sites:
Cups and Mugs
Shirts and Hoodies
Baby Clothes
Stationary
Magnets
Stickers and Signs
7. Tutoring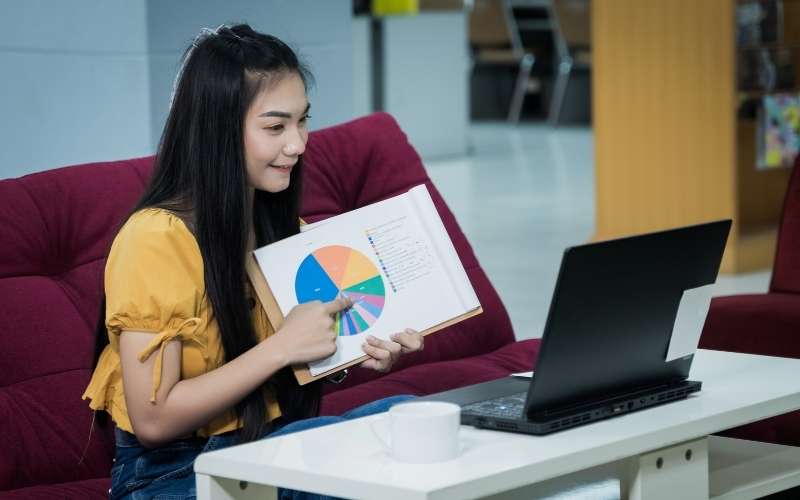 As a teen, you can tutor grade school or middle schoolers.
Some sites hire people who are at least 18 years old to teach English online.
This guide tells you all about the different jobs you can get as an online English teacher.
8. Sell Your Stuff
Do you have collectables, clothes, or maybe some electronics or games you don't use anymore? Sell them online.
Yup! Making money online as a teen is as easy as decluttering your closet.
Each site has a minimum age requirement, but you can also work with your parents and use their accounts under their supervision.
Trademe and Facebook Marketplace are the most popular sites for reselling your stuff:
9. Dog Walking
When you work as a dog walker, you won't just be a teen making money online. You'll make a furry friend or two!
Some apps let you be a pet sitter too!
The minimum age to use apps to find jobs for pet-sitting or dog-walking is 18 years old.
Pawshake is kind of like Uber for pets.
When you sign up, you can see who needs a pet sitter or dog walker around you.
Then, you can accept the jobs and communicate with the pet owner.
Online safety is essential when you use apps to go to people's houses.
Always talk to your parents before doing jobs like this.
10. Baby Sitting
Ok, so maybe you prefer kids to dogs. In that case, when you look for online jobs for 16-year-0lds, consider baby sitting and child care.
You must be at least 18 years old to use apps to find jobs in childcare.
The only exception to this rule is Care.com.
You can join as a Teen Provider when you are at least 14 years old, as long as you have a parent or legal guardian who is a registered user.
There are two ways to find jobs on Care.com. You can either create your own listing advertising your skills and availability.
Or, you can browse the job listings and respond that you are interested.
11. Sell Arts And Crafts

Are you a creative person that wants to sell jewellery, clothes, or other things you make?
Selling things on Etsy is a popular way that teenagers are making money online.
The minimum age to set up an Etsy account is 18 years old.
However, if your parents set up their own account, you can basically run it.
Another option is to sell on Shopify and Facebook Marketplace.
All three options have different fees.
You'll also have to do a bit of social media advertising/promotion to get people to see your listings.
Don't know what to sell? We've done the research for you – check out our guide to the top things to sell on Etsy to make money.
This list of crafts to make and sell will also give you some fantastic ideas!
Deciding what to sell is the first step. Then you have to set up the shop and market your products.
Don't be overwhelmed; this guide for earning passive income on Etsy will walk you through each step.
12. Customer Service Rep
If you have enough time to dedicate to it, another one of the teen jobs online is a customer service rep.
This is most like a regular job out of all others on this list because you will have set hours that you must keep.
This might not be one of the most fun ways for teens to make money online, but it will give you skills you need for jobs later on.
The kind of things you'll do in a customer service role include:
Answering phone calls
Setting up appointments
Problem-solving customer complaints
Taking messages
13. Review Music
Are you a music-lover? Get paid to listen to new music – it's one way teens make money online.
The most popular website that pays for you to review music is Slice The Pie.
The minimum age to sign up is 13 years old.
You'll review all kinds of things. Some examples are:
Songs
Clothes
Commercials
The pay varies by project. Some reviews pay $0.15 per track, and some pay $0.03 each.
Once you accrue at least $10 in your account, you can cash it out via PayPal.
This is another site that doesn't pay enough to replace a regular job, but it is a fun way to earn a little extra cash on the side.
14. Make YouTube Videos

As long as you work with your parents, there isn't really a minimum age for making videos on YouTube.
However, you must be at least 13 years old to create your account.
To qualify for ads on your videos, you must meet these requirements:
Have more than 4,000 valid public watch hours in the last 12 months
Have at least 1,000 subscribers
Have a linked AdSense account
Plus, if you get really good at video editing, you can offer that as a freelance job later on!
15. Start A Blog
Starting a blog is another work-from-home job for teens that lots of kids are learning to do.
The good thing about this side hustle is that it will teach you many skills that you'll use in future jobs.
The bad thing is that earning money on a blog takes quite a bit of time.
There are 3 main ways to earn money with a blog:
Ad Revenue
Sponsored Posts
Affiliate income.
You can create a blog about almost anything. From arts and crafts tutorials to shopping guides, the ideas are endless.
Are you ready to dive in and make a blog?
This guide tells you everything about how to turn a blog into a money-maker!
16. Virtual Assistant
If you are responsible and have excellent communication skills, then being a VA is one of the working-at-home jobs for teenagers you should consider.
A virtual assistant is basically someone who does various online jobs for small businesses, influencers, bloggers, and website owners.
Some of the types of jobs you will be doing include:
Content Calendar Organizing
Managing Email Accounts
Posting to Social Media
Tracking Social Media and Website Analytics
The best ways to find work is in Facebook groups and Upwork.
Still interested in becoming a VA?
My virtual assistant guide will tell you much more info – including the easiest ways to find the jobs.
17. Flip Old Products
If you want to work with your hands to earn money, consider flipping old objects for a profit.
Basically, you find things at garage sales and fix them up. Repair them, repaint them, and then sell them for a profit.
You can sell your projects on Facebook Marketplace or Trademe.
Check out Flea Market Flipper's course, Flipper University: Kids Edition for actionable advice on how to get started
18. Play Games For Money
You won't get rich doing it, but there is a way for a teenager to make money online by playing games.
The best app to do this on is MistPlay. The minimum age to use MistPlay is 13 years old.
It is currently just an Android app.
You play games, earn points and then turn those points into cash or gift cards.
19. Voice Actor
People hire teens for things like ads, videos, and even cartoons.
Being a voice actor is one of the easy online jobs for teens you should consider if you enjoy acting.
This could become a huge career, so it is essential to take it seriously and ensure you have the correct mic and soundproofing area.
This guide explains everything you ever wanted to know about how to get into this career.
Getting Jobs Online: Tips For Teens
Now that you know how to make money online as a teen, I have some tips to help you be more successful.
Before you get a job online, follow these tips.
This all needs to be set up before you apply for jobs so that you are ready to handle the responsibility (and have a way to get paid).
Set Up A New Email Account
Never miss an email that gets buried in a bunch of newsletters. Have an email account just for your jobs.
Or, set up a filter in your inbox. Plus, you will want a professional-sounding email that is easy to remember when you are filling out job applications.
Establish A Work Schedule
As a teenager, remember that school always comes first. Find a job that will work around your school and extra-curricular activities.
The best way to do this is to write down your weekly obligations, including time for homework, and then create specific hours each day that you can focus on your side hustles.
Set Up A Way To Get Paid
After you find online jobs for teenagers that pay, you need to set up a way to get paid from them.
The minimum age for setting up a PayPal account is 18 years old.
If you are younger, ask your parents to help you set one up under them.
Many banks have everyday accounts you can set up under your parent's supervision.
Use Parents As Support
This is the most important part of all. Use your parents, grandparents, family members, or close adult family friends as support.
Ask them to help you find gigs and jobs with their friends. This is the way that networking works!
Plus, when working with a close adult mentor, you don't have to wait until 18 to use sites like Shopify, Etsy, or Poshmark.
Learn More
Working from home is an entirely new experience from working in a store. Don't be overwhelmed.
These free work from home courses will take you step-by-step through the entire process.
You'll learn everything from how to set your schedule to how to price your services and communication tips.
You will also use these skills well into adulthood in other jobs.
Online Jobs For Teenagers: Final Thoughts
There you have it! I hope you enjoyed these tips showing you how to make money from home as a teen.
Before you start setting up accounts and applying for jobs online, it's essential that you understand your strengths.
You'll be more likely to get jobs when you go for things you are good at!
This is the best time to prepare yourself for adulthood, so use each job as a learning experience.
Keep growing and learning and you'll do fine!
Related guides: